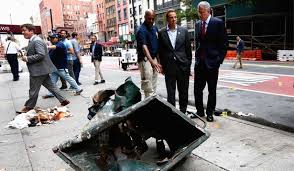 In what appears to be an apparent terror attack, a series of bombs detonated in New York city and New Jersey. The events prompted a manhunt for possible suspects.
The bombs placed in backpacks and crudely wired together with cell phones and pressure cookers, injured several people at Seaside Park in New Jersey, Chelsea area in downtown New York City and Elizabeth, New Jersey. 
Prompt investigation and follow-up on leads ultimately led authorities to Ahmad Khan Rahami, a 29-year old American citizen born in Afghanistan. Police eventually caught up with Rahami who was injured in the shootout. He was taken to a hospital for treatment and is currently under custody of authorities and will be interrogated. 
While the motive for the attack is presently unclear, authorities will be investigating if the attacker had any connection with international terrorist organizations.