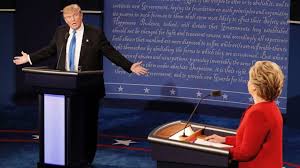 The first presidential debate between Republican nominee Donald Trump and Democratic nominee Hillary Clinton is now history.
Last night's debate, the first of three Presidential debates between the candidates, was hyped up to be the 'super bowl' event in politics. While numbers are not yet in, more than 100 million people are expected to have watched or followed the first of the three US Presidential debates.
After months of campaigning and making pitches to their respective bases, this was the first time that the nation was able to witness the two candidates side-by-side on the same stage taking issues of concern for the country. The debate touched on several topics including economics and tax policies, international relations, military plans, race, job opportunities, cyber security and lots more.
Did you watch the election debate? What did you think about the performance of both candidates? Who do you think is more impressive to be our future President? Even if you cannot vote, here is an opportunity to cast your vote in the comments below.