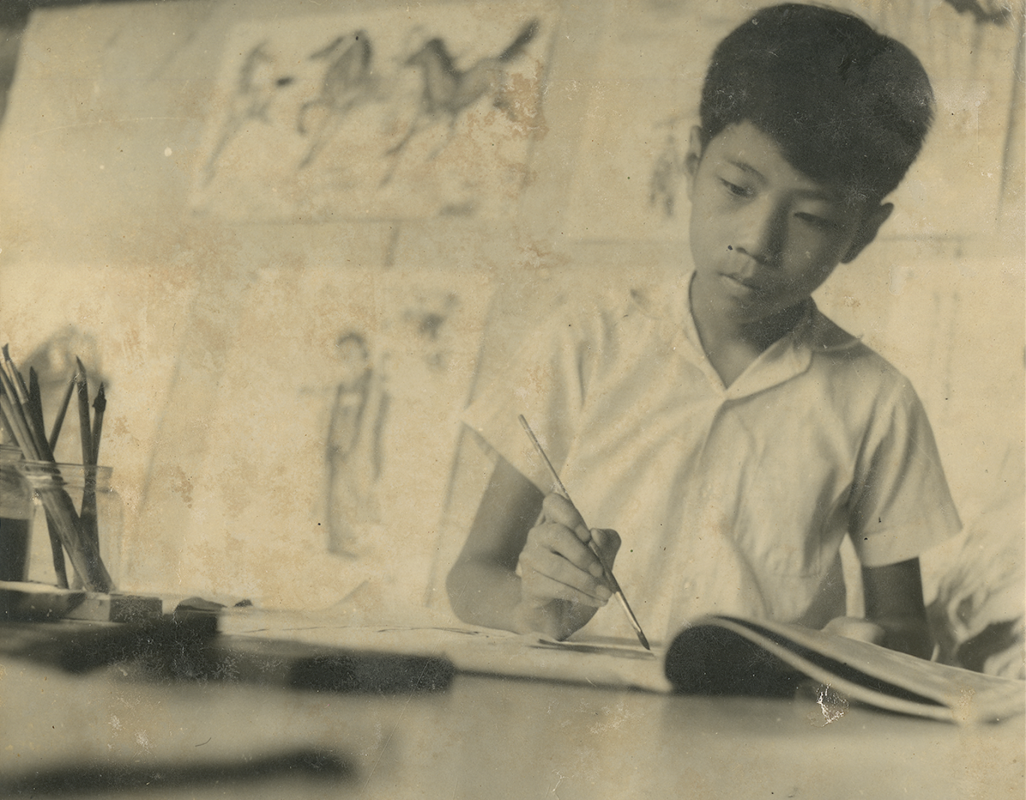 I loved art from a young age. However, I grew up in rural China right after the Cultural Revolution, at a time when there were not many opportunities.
But I consider myself fortunate. Since my father was the Director of Teaching at a high school, I spent my childhood playing in the courtyard and classrooms and spending time at my father's office.
There was nothing much to play with, but he had a lot of chalks to write on the blackboard. I would draw on his blackboard and later, the cement playground became my canvas.
A Turning Point
My interest in drawing developed very intuitively and spontaneously.
At my elementary school, art classes were very simple, and so, I taught myself. I would look at picture stories, reproductions, posters, and sometimes political propaganda which were common in China in those years, and make copies of the materials. My parents noticed my interest and so did their colleagues. They would ask me to finish blackboard drawings or help with propaganda drawings for schools or for the hospital where my mother worked.
The turning point came when I was about 10 years old. My father took me on his bike from our town to a nearby city to visit a serious artist. Mr. Huang Zhi had been my father's art teacher when he was in school and was well-known in the county. I showed Mr. Huang the drawings that I had copied from all kinds of materials. He said -- "You can't just be copying. You should observe real objects, real things and draw from life"
As he was talking, he took out a sketchbook and drew a profile of my father. It looked totally like my father and I was amazed. I learned my first lesson in art from that experience -- to draw from observation.
A Love for Art and Literature
When I got back, my parents would cut me pieces of paper, and I drew everyday utensils like teacups and thermos, as well as a portrait of an older lady who was our neighbor. My father was a huge influence on me -- he not only encouraged my interest in art by giving feedback if something did not look right, but he also taught me to appreciate Chinese classics. We would go out for walks after dinner, and he would recite poems and paragraphs from other classic texts and explain the beauty and wisdom in ancient Chinese literature.
When I was in middle school, I had the opportunity to watch Mr. Ni Honghai, a traditional Chinese artist, paint birds, bamboo, and landscapes with brush and ink. I would borrow his paintings, make copies, and share them with friends and relatives.
Since I was in the science and technology track in high school, I decided to study architecture at Tsinghua University. I thought architecture would be a good combination of my strength in science and my passion for the arts. However, the desire to pursue art full-time was growing in me. I found myself spending weekends painting and drawing landscapes, reading literature, and writing poems.
I decided to follow my heart and went on to attend a graduate program in mural painting in China and then, to pursue a Master of Fine Arts degree in the U.S. From the mid-1990s my paintings were exhibited in the Dallas Fort Worth area and I started gaining recognition and awards. I taught at  Bucknell University in Pennsylvania for ten years, and since 2009, have been a full professor at Stanford University's Department of Art and Art History.