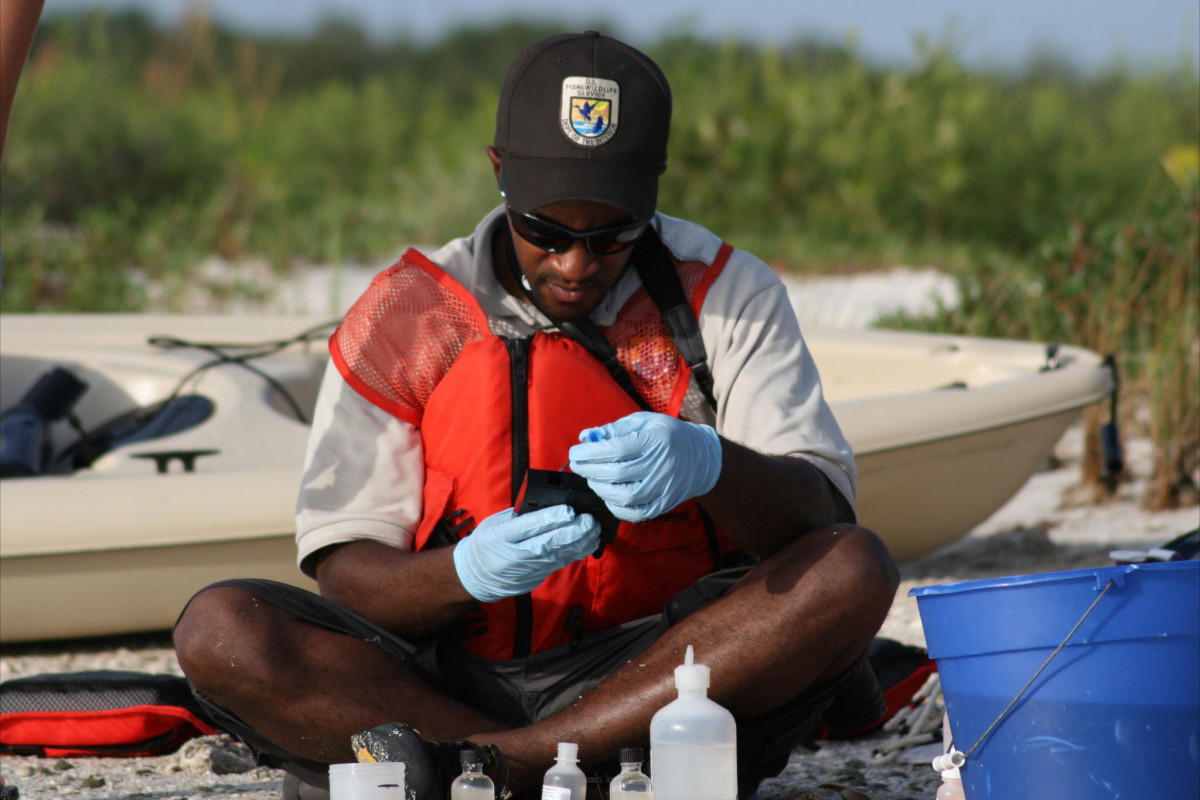 During my early childhood years, I would spend time with my step-dad in Alabama, fishing and hiking through the woods.
This is where I found my first box turtle crossing a busy road. I rescued the animal out of harm's way. Without money for afterschool programs and sports, I would spend my spare time catching crawfish, tadpoles, frogs, and making homemade fishing poles.
I would catch minnows in buckets, and use the minnows to catch larger fish, primarily sunfish, crappie, and catfish. I moved back to Chicago in the 3rd grade and became saddened that I was unable to swim at local beaches and eat fish that were caught from Lake Michigan which was contaminated.
Finding My Love For Science
When I started having behavioral issues in elementary school, my teachers would punish me by sending me to my guidance counselor (Dr. Deborah Hawes) to do math and science projects. 
I would intentionally disrupt the class, knowing that I would get sent down to her office for guidance. Dr. Hawes was passionate about science and math. Her goal was to help every student realize the importance of these subjects, and how they relate to everyday living. As a result, she was able to convince me to participate in science fair project competitions.
Surprisingly, I did incredibly well at those competitions and received numerous awards throughout the city at larger competitions. It was after 8th grade that Dr. Hawes convinced me to transfer from Hyde Park Career Academy to attend the Chicago High School for Agricultural Sciences (CHSAS). This by far, was one of the best decisions I have ever made in my life.
Becoming A Wildlife Biologist
It was while attending CHSAS that I became interested in the study of environmental and animal sciences. My time spent at CHSAS is what sparked my interest in animal science and conservation and motivated me to continue my education at Delaware State University (DSU), where I was awarded a partial scholarship.
I completed a Bachelor of Science degree in Animal Science at DSU in 2004, with internships at Purdue University, Michigan State, and the University of Namibia in Africa. In 2008, I earned a Master of Science degree from Iowa State University while conducting research on turtle nests. As a graduate student at ISU's Turtle Camp from 2006 to 2008, I mentored high school and college students by helping them design research projects focusing on reptiles at the Upper Mississippi River National Wildlife and Fish Refuge.
After working in the Career Discovery Intern Program, in 2009, I became the Savanna District's first-ever Wildlife Biologist. I am stationed at one of the most visited refuges in the nation, which attracts millions of hunters, fishermen, and other outdoor enthusiasts from across the nation.