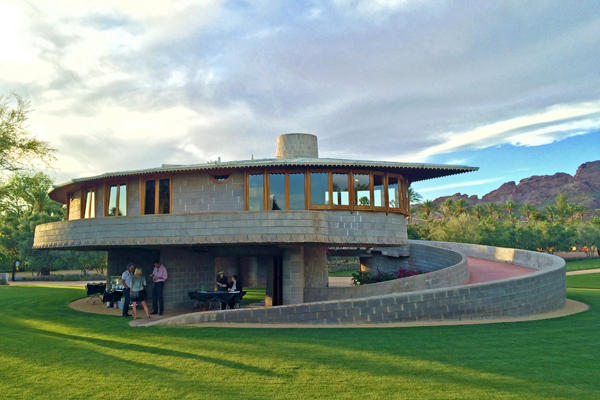 Imagine a building that looks like it is suspended over a waterfall! 
This iconic residence was designed by Frank Lloyd Wright, one of America's greatest architects for Pittsburgh's famous Kaufman family. Fallingwater is now a museum, but for those who love architecture, there is a Wright home up for sale! 
In 1952, Wright had built a house in Phoenix, Arizona for his son David. The house had a unique design, with a ramp spiraling up to the main house. Zach Rawling bought the house and tried to preserve it by converting it into a museum and then tried donating it to a nearby school.
After neighbors complained about the potential noise it would bring to the area, he decided to finally put the house on the market for $13 million!
Frank Lloyd Wright: A Brief Bio
Frank Lloyd Wright was born in 1867 in a farming town in Wisconsin. According to Wright's autobiography, his mother expected him to become a great architect. As a young boy, he played with geometric blocks, exercising his eye for design.
In 1886, Wright attended the University of Wisconsin, Madison, and eventually received a doctorate in fine arts. A year later, he started his first job at an architectural firm in Chicago. He did not get along well with his fellow employees, but he became the chief assistant to architect Louis Sullivan.
Wright made his debut as an architect with his "prairie houses." These were long and low single-story houses made of unpainted and unstained wood that reflected the broad and flat landscape of the U.S Midwest.
Wright moved to Germany for a bit and gained prestige in international circles. Upon returning to the US, he designed his house called Taliesin on the land where his ancestors once lived. In 1915, Wright was commissioned by the Japanese emperor to design the Imperial Hotel in Tokyo.
By the 1930s, he had created several of his greatest works, including Fallingwater. His last project was the Guggenheim Museum in New York City. Frank Lloyd Wright passed away in 1959, just six months before the museum opened its doors. 
Wright's Legacy
Frank Lloyd Wright was known for his simple architectural designs, yet he was also famed for his emphasis on natural beauty. He first created the prairie homes as a contrast to the Victorian style of architecture.
Over time, he developed his own style, referring to them as "organic architecture." In other words, his buildings tended to mimic nature or morph into a part of the natural surroundings. He believed homes reflected the time, place, and personalities of their inhabitants, and everything had to be in harmony. To that end, he even designed furniture, rugs, lighting, and dinnerware to fit the setting. He was open to new materials such as glass and steel which enhanced the open character of his designs.  
All in all, Wright designed over 1,100 buildings, 532 of which were built. Besides a rich legacy of buildings, he published papers and books and gave lectures. His apprentices completed his unfinished works and to this day the company he founded -- Taliesin Associated Architects, designs buildings that are true to Wright's philosophy.
Sources: Biography, PBS, Franklloydwright.org, artforum.com