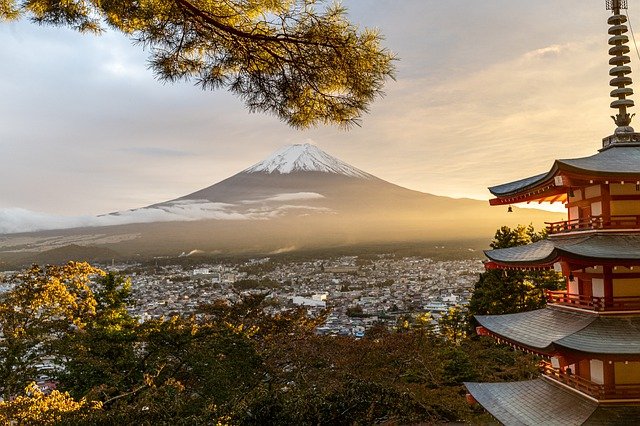 GUESS: Lauren's favorite place to visit! Image Pixabay
Year of Study?   Grade 10
Which three words would you use to describe yourself?    Bookworm, Spontaneous, Compassionate
Favorite book or movie?    I have way too many favorite books, but if I had to name one, I'd say Circe by Madeline Miller. It's a modern retelling of Circe's tale from Greek mythology, and Miller's prose is vivid, descriptive, captivating, and heart-wrenching.
Favorite thing to do in your free time?    I love plopping down on a comfy armchair with a pile of snacks and really good books! If I have enough time, I'll sit there for hours.
Favorite food?  It's really hard to name one favorite food of mine, but I've always loved hash-browns and sunny-side-ups, which I'll eat even when breakfast time is way over.
Dream vacation spot?   I'd really love to travel to Japan one day. Japanese cuisine is amazing and super delicious, and I'd leap at the chance to stuff myself in Tokyo and Osaka. Visiting all the cool parks, cafes, and shops would also be really exciting. 
If you could have any superpower in the universe, what would it be and why?  Teleportation would be a really cool superpower to have. I'm often too lazy to get out of my chair to grab something, so just teleporting there (or teleporting the object to me) would be fantastic. I could also teleport anywhere I like, without buying air tickets or bothering with land transportation or just randomly materialize on friends and family to jump-scare them.
What do you see yourself doing in the future?  I'm still unsure of my career plans for the future, but I'd love to become a psychologist, doing editor work and publishing novels and short stories on the side.
What do you like most about working with Youngzine?  When I first started working with Youngzine, the idea of researching for and writing an article in a day or two was scary! Now, nearing my third year, doing so doesn't seem nearly as intimidating, and I always end up having lots of fun. Besides the fun factor, I learn new things, since writing an article means I have to understand the subject and explain it in a clear, understandable way. And looking back, I've discovered that I've really improved my writing and research skills.
What's your favorite article that you've written and why?  It's been really hard deciding, but I think my favorite article is "The Amazing Peacock Spiders". While I'm scared of most creepy-crawlies, I find peacock spiders super adorable, so writing that article, and describing the cute spiders recently discovered, was a really fun experience for me.