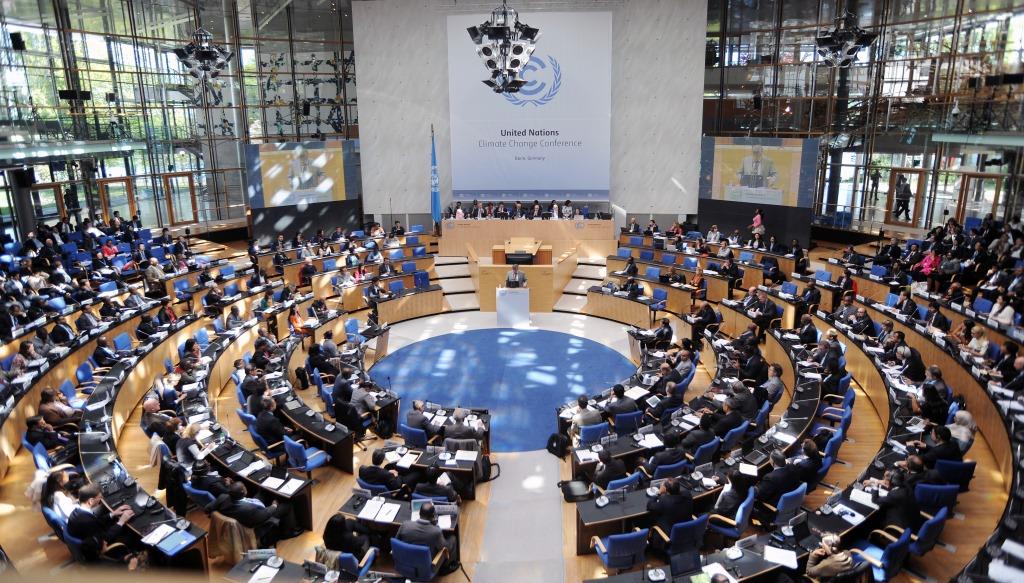 It's a commonly held belief that if you want to fully commit to a goal, you have to put it down in writing.
Two years ago at the United Nations Framework Convention on Climate Change (better known as UNFCCC), leaders from around the world did just that. At a meeting in Paris in 2015, countries from around the world decided that they needed to address climate change by pledging to reduce their carbon dioxide emissions significantly over time. 
Now, the countries are meeting again in Bonn, Germany to review the goals they set two years ago and to revise goals if they don't seem ambitious. They also want to promote openness in how each country reports the progress they are making in reducing emissions.  
The Paris Agreement
Scientists have been warning us about the impact of greenhouse gases like carbon dioxide (CO2) for a while now. Since the start of the industrial revolution, our Earth has been on a warming trend. 
The Paris Agreement set a target of keeping the rise in global temperatures to under 2 degrees Celsius (3.6 degrees Fahrenheit) or 1.5 degrees Celsius, if possible, by the end of this century. This doesn't sound like a lot, but even such a small change can have drastic effects on water levels, polar ice caps, extreme weather conditions, and more.
The agreement signed by the countries required that each set its own plan to achieve its individual goal based on its needs and its economy. The plans produced are non-binding, however -- which means if a country does not meet its goals, there is no real consequence.
But how do you decrease emissions? Some nations have decided to invest in 'clean' or renewable energy, such as solar or wind energy, as an alternative to burning coal and releasing carbon dioxide into the atmosphere. Others have decided to transition away from gasoline-powered vehicles, including France, which will be switching entirely to non-petrol and non-diesel cars in 2040.
Is It Working?
Many countries are not on track to meet their predetermined goals, either because it is not the in the interest of their country's economy or their leader does not support it. And when some countries start to slip, other nations do not feel as pressured to stick to their end of the bargain. All in all, the Paris agreement is certainly helpful, but not necessarily watertight.
The goal of the Bonn Summit is to advance the Paris agreement's efforts. After the U.S withdrew from the agreement this year, other nations have pledged to pick up the slack. However, it should be noted that it takes four years for a complete withdrawal by which time the US will have another Presidential election. There is hope that America will eventually return to negotiate at a later time
This year's host is the island of Fiji in the Pacific, even though the summit is being held in Bonn, Germany. As leaders meet for the talks, they are reminded that Fiji itself is in danger from rising sea levels. It forces all countries to acknowledge that each of us makes a mark on this planet we share and that we are all responsible for what comes of our actions.
Sources: NYTimes, Guardian, USA Today, UNFCCC