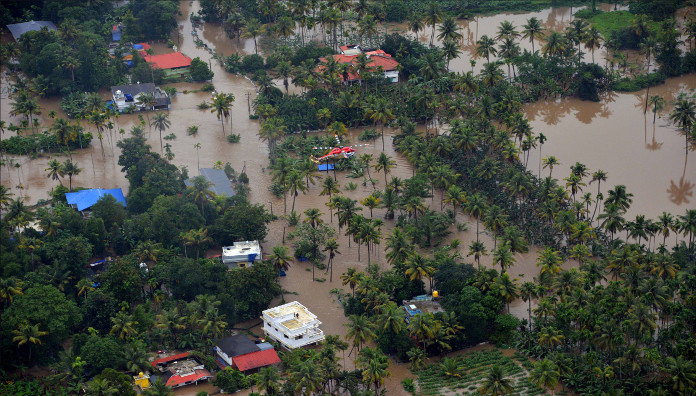 The state of Kerala in India is still recovering from the "worst floods in 100 years" according to the chief minister Pinarayi Vijayan.
There have been more than 400 deaths reported thus far due to the monsoon rains that have been pounding Kerala since mid-May. More than 220,000 people have lost their homes to the flooding and an estimated million others have been displaced and are currently taking shelter in relief camps.
Those that have chosen to return to their homes after the flooding are facing health issues, with reported cases of rat fever in five of the 13 districts impacted by flooding.
The Monsoon Season
Monsoon season typically affects southern India from the months of June to September. These vast waves of rainfall are the result of the shifting of warm, moist air from the southwest Indian Ocean. This air causes humidity to skyrocket, triggering monsoons and flooding.
The normal pattern of monsoons does benefit the area. Much of India's industry depends on heavy rainfall like certain agricultural crops and energy sources, such as hydroelectric power. However, with an average of 37.5% more rainfall than usual, monsoons are causing a great deal of damage this season, isolating and wiping out entire cities.
In Kerala, mobile networks are down, an international airport has been shut down, hundreds of landslides have been set off, and an estimated 6,000 miles of roads have been damaged. Rescue teams are being sent out to the stranded, with some in the general public even going out with their personal boats to lend a hand. Researchers from a local University have developed an app that has helped provide relief to more than 12,000 people stranded due to flooding in Kerala by creating a line of communication and method for locating the stranded and keeping track of casualties.
While there are many efforts being made to rescue those trapped homes, there are still thousands stranded. Not only do these people have no access to resources, they are also being exposed to unsanitary living conditions.
What Is Rat Fever?
Rat fever, or leptospirosis, is spreading in parts of Kerala. Rat fever spreads when water that is contaminated with urine of animals (mainly rats) and infected with the bacteria comes into contact with an open wound or the eyes in humans.
More than 60 people have died from the disease in Kerala provoking the state to place an emergency protocol in certain districts. Rat fever causes muscle pain, fever, and jaundice. The state's medical agency has distributed preventative doxycycline stock after the flooding but is now facing a shortage of the medicine. The health ministry also recorded many cases of cholera, typhoid, and hepatitis in the past month, and the situation has been brought under control through medication.
While the unusually heavy monsoon is to blame, experts also say the crisis is due to human impacts such as deforestation and illegal constructions that violate building codes, as well as human error in managing the water in reservoirs. The floods have also affected the state's vibrant tourism industry. It will be a while before this beautiful paradise is once again back to its glory.
Sources: National Geographic, Telegraph, AlJazeera, BBC, Times of India