Last week, UNESCO named mariachi music from Mexico as an "intangible cultural heritage" in need of preservation. According to UNESCO (UN Educational, Scientific and Cultural Organization), "Mariachi is a traditional music and fundamental element of Mexican culture, transmitting values, heritage, history, and different Indian languages".
Modern mariachi music includes a wide repertoire of songs from different regions of the country and musical genres. Today the mariachi tradition exists not only in Mexico but is popular among Latinos in the US, Central, and South America as well as in Paris.
Mexican music history
Mexican music before the arrival of the Spaniards was played with rattles, drums, reed, clay flutes, and conch-shell horns. With the arrival of the Conquistadors, many of these instruments gave way to imported Spanish instruments such as violins, guitars, harps, brass horns, and woodwinds. While the Indian musicians began playing these instruments, they modified the instruments from time to time to give them shapes and tunings of their own.
Music and dance are important elements of Spanish customs and these became enormously popular throughout the Spanish speaking world during the colonial period.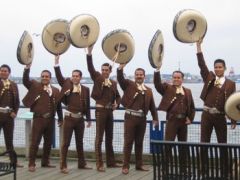 A Mariachi Ensemble
A typical Mariachi troupe includes 6 to 8 violins, 2 trumpets, guitar, vihuela - a round-backed guitar, guitarró – a deep-voiced guitar, and Mexican Harp. The combination of instruments gives the ensemble unique contrasting sounds – the heart and soul of mariachi music. The musicians wear traje de charro – suit of the horsemen including the characteristic sombrero, tight fitted wool pants, and short riding boots.
Guadalajara, the capital of Jalisco state is the birthplace of mariachi.  At its very soul, mariachi music is the country music of Mexico and is part of special celebratory festivals such as courtship, marriages, baptisms, patriotic holidays, and even funerals. President Lázaro Cárdenas was instrumental in bringing Mariachi music to the mainstream in the 1930s. Since 1994, Jalisco hosts an annual international mariachi festival that draws more than 10,000 performers from as far away as Japan.
Mariachi – the name
The origin of the word Mariachi has been debated by musicologists and folklorists. Some think it is a variation of the French word "marriage" - meaning wedding. Maximillian, a Frenchman, was the Emperor of Mexico in the 19th century and is credited by some with naming the music following the celebrations during his time. Linguists believe the word originated before the arrival of the French in Mexico. They suggest mariachi refers to the wood used to make the platform on which the performers danced to the music of the village musicians.
Whatever the source of its name, Mariachi is one of the most exciting and enchanting musical ensembles found anywhere in the world.