The Year of the Ox is upon us as Asia welcomed the Lunar New Year on Friday, February 12.
Usually, the lunar new year (also known as the spring festival) sees one of the largest human migrations in the world. More than three billion trips are made as people travel to and from their hometowns over the 40-day period  
However, this year, the Chinese government has urged people to not travel as clusters of the virus are continuing to appear across the country. Many people are heeding the call. Travel before the holidays is down by 70%. 
Meanwhile, many people are making the most of their staycation. Hotels are offering family packages and movie theaters are gearing up for record sales. And thanks to technology, many Asians are learning how to cook their favorite holiday dishes on video calls with their families!
How Does Asia Celebrate?
Even though it is referred to as the Chinese New Year, the lunar new year is also celebrated in countries such as Vietnam and South Korea. Many others with a large Asian population such as Malaysia, Singapore, and Indonesia also host large celebrations. 
Before the start of the festival season, houses are cleaned, debts are paid, and new, brightly colored clothing is purchased. The festival typically includes folk dances with people dressed up in gigantic lion and dragon costumes, fireworks, temple visits and elaborate meals with families and friends.
Red is the color of the season -- people wear red clothes, houses are decorated with red lanterns, and children receive little red envelopes with money. These days, red digital e-envelopes are on the rise among young people who exchange gifts via social media apps such as WeChat.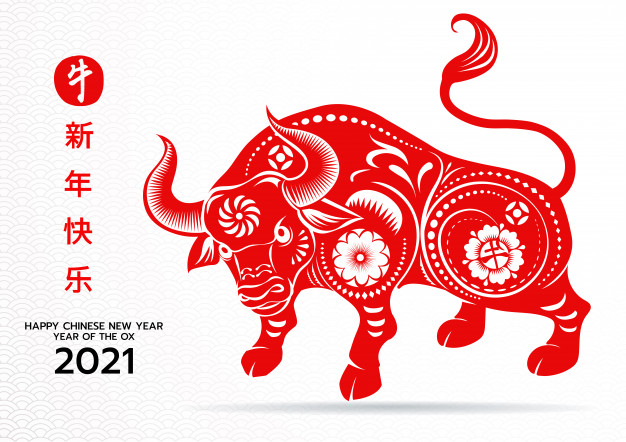 The two-week celebration concludes with the Lantern Festival when people crowd the streets carrying a variety of lanterns or set them afloat on the river.
Qualities Of An Ox
The Chinese zodiac is a calendar system introduced by the Han Dynasty (206-220AD) which names each of the years in its 12-year cycle after an animal.
Each year is also associated with one of five elements -- water, wood, fire, earth, metal. 2021 is the Year of the Metal Ox. 
So, what are the characteristics of those born in this year? The ox is perceived as a hard-working animal that takes its responsibilities seriously. People born in this year are faithful, trustworthy, determined, and hard workers. They possess leadership qualities and can be stubborn or judgemental!
Sources: NYTimes, scmp.com, chinesenewyear.net