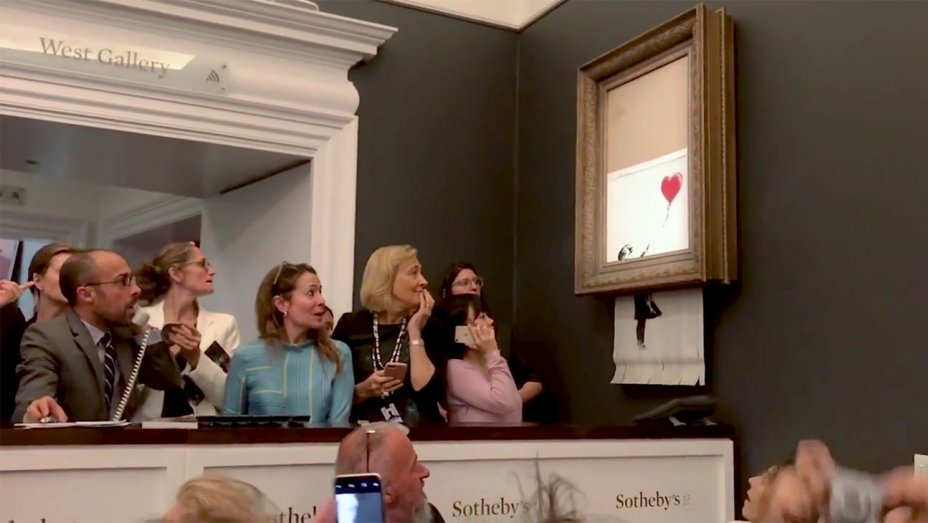 Just as the hammer came down at Sotheby's auction house in London, the painting titled "Girl With Balloon" started shredding into slivers of paper!
"It appears we just got Banksy-ed," said Alex Branczik, Head of Contemporary Art referring to the masked graffiti artist known as Banksy who had pulled a 'prank' which resulted in one of his most valuable paintings being shredded in its frame.
A video posted on Banksy's Instagram with the simple caption, "The urge to destroy is also a creative urge," showed how he ingeniously planted the shredder in the painting's frame. 
Who Is Banksy?
Except for the fact that he is British, no one knows anything about the identity of Banksy. He is an elusive street artist whose artwork on controversial topics and political themes is worth millions of dollars.
Banksy uses common, or even copyrighted, images, then incorporates a twist into them that represent injustices and downfalls in society. Some of the ideas he has experimented with include war, corruption, capitalism, pollution, and various other topics that have impacted the world in a major way.
His artwork is not always found in the most discreet places. Banksy has covertly snuck some of his works into high profile museums like the Louvre, the British Museum, and even the American Museum of Natural History. And although his works can be worth up to millions of dollars, he recently sold some of his renditions for only about $60 a piece.
Some of Banksy's most famous works include "Girl With Balloon", "Show Me the Monet", and a "bemusement park" by the name of Dismaland. Dismaland was a temporary pop up attraction that hosted many of Banksy's artworks that sharply criticized current issues and brought attention to events like Europe's refugee crisis.
"Girl With Balloon"
The highest bidder at Sotheby's, an unidentified European collector, made the decision to keep the famous painting and commented that they ended up with "a piece of art history."
Furthermore, the painting may have been worth $1.4 million before, but experts now say that the value may have escalated after its shredding, which increased its allure. This is not the first time that an artwork has gone up in value unexpectedly. Andy Warhol's paintings of Campbell soup cans did not attract any attention until they were put together as a single unit -- and suddenly became very valuable!
Since a new piece of "art" had been created, many felt that the painting deserved a new title. So, Pest Control, Banksy's authentication body, granted a certificate that renamed the masterpiece as, "Love is in the Bin."  Neither the auction house nor Banksy's representatives have confirmed whether the seller of the painting was Banksy or not.
All that can be said about this "self-destructing painting" is that it forever engraved a spot for itself in art history.
Sources: NYTimes, LA Times, Sothebys, Smithsonian, Biography, Business Insider