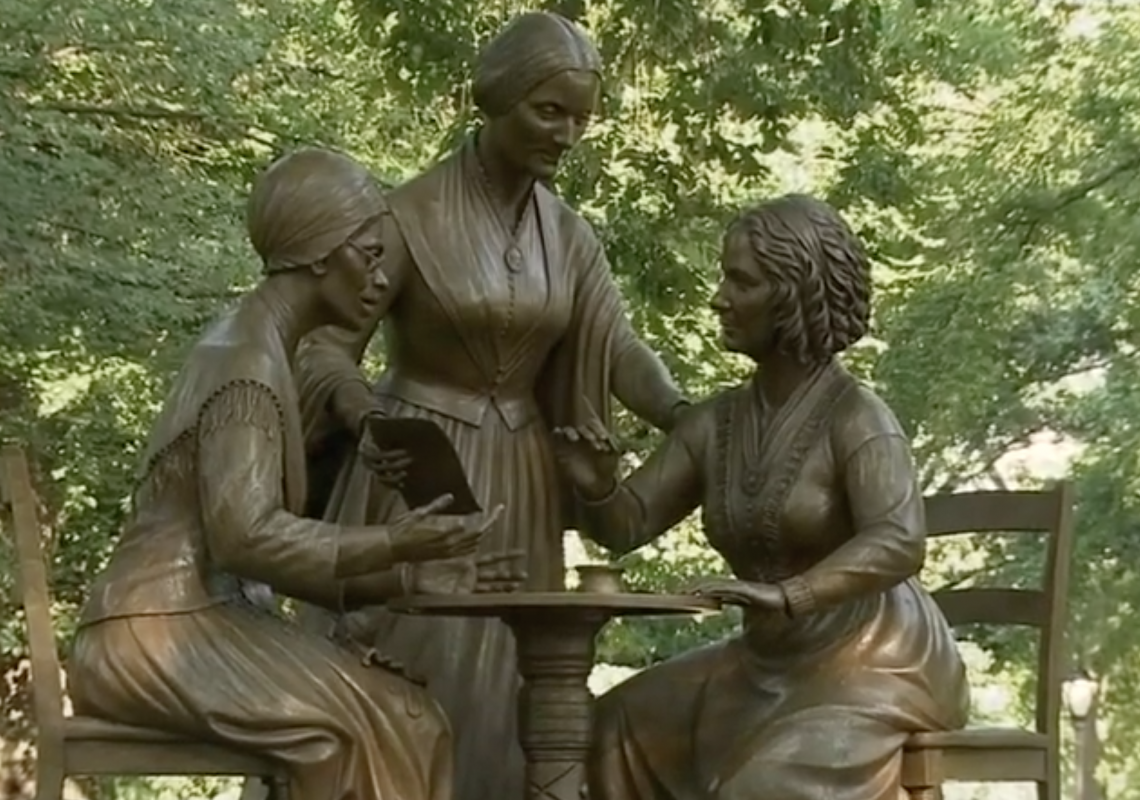 Central Park, located in New York City is not your ordinary run-of-the-mill park. For starters, it is bigger than the country of Monaco!
A prominent feature of Central Park is the various sculptures dedicated to fictional characters, historical figures, and more. However, the sculptures do not feature any women, except for sculptures dedicated to fictional women such as Alice from Alice in Wonderland.
However, thanks to the efforts of Monumental Women, a non-profit, Central Park is now home to sculptures of three women's rights activists.
Today, on the 100th anniversary of the 19th Amendment which granted women the right to vote, the statues of Elizabeth Cady Stanton, Susan B. Anthony, and Sojourner Truth were unveiled. The historic unveiling featured remarks from Hillary Clinton who said "There is nothing more important to honor the women in this statue than to vote." 
Meet the Activists 
Elizabeth Cady Stanton and Susan B. Anthony were pioneers in the American women's rights movement as well as abolitionists (a person who advocated to end slavery). Stanton was born in the year 1815 while Anthony in 1820. Stanton and Anthony were born in a time where women had little rights – for example, women were not allowed to vote or own property.
The pair met in 1851 and from there, an extraordinary partnership was formed – together, they founded the National Woman Suffrage Association, which advocated for a women's right to vote in political elections, and published their newspaper, The Revolution together. Although their paper was not successful, it provided a good medium for the women to broadcast their thoughts to a wide range of people.
Stanton also penned the Declaration of Sentiments, stating that as men and women were equal, they should be afforded equal rights. Stanton read her declaration at the Seneca Falls Convention in 1848, and eleven of the twelve resolutions demanded were granted. The only resolution not granted was a women's right to vote.
However, through countless rallies and marches organized, women were finally granted the right to vote in 1920. However, it still excluded women who were black, Native American, and Asian-American, and true equality was achieved with the passage of the 1965 Voting Rights Act. 
Meet Sojourner Truth
Sojourner Truth was born into slavery in New York in 1797. Isabella, as she was named, was separated from her family at age 9 and sold several times. She faced physical and sexual abuse at the hands of her masters and was kept apart from other African-Americans. 
Isabella found her strength in Jesus, and with an infant, escaped to freedom in 1826. She moved to New York City, where she continued to grow in her spiritual beliefs, became a preacher, and adopted the name Sojourner Truth.
Truth became a tireless crusader for African-American freedom, fought for blacks to be included in the Union Army during the Civil War, and for land to be granted to freed slaves after the war. She supported women's suffrage and met with Stanton and Anthony; the women, however, disagreed on how to go about securing the rights for both blacks and women to vote. 
Today, the freedoms that all girls and women enjoy would not have been possible without these pioneering women who stood up for injustices. 
Sources: PBS, womenshistory.org, biography