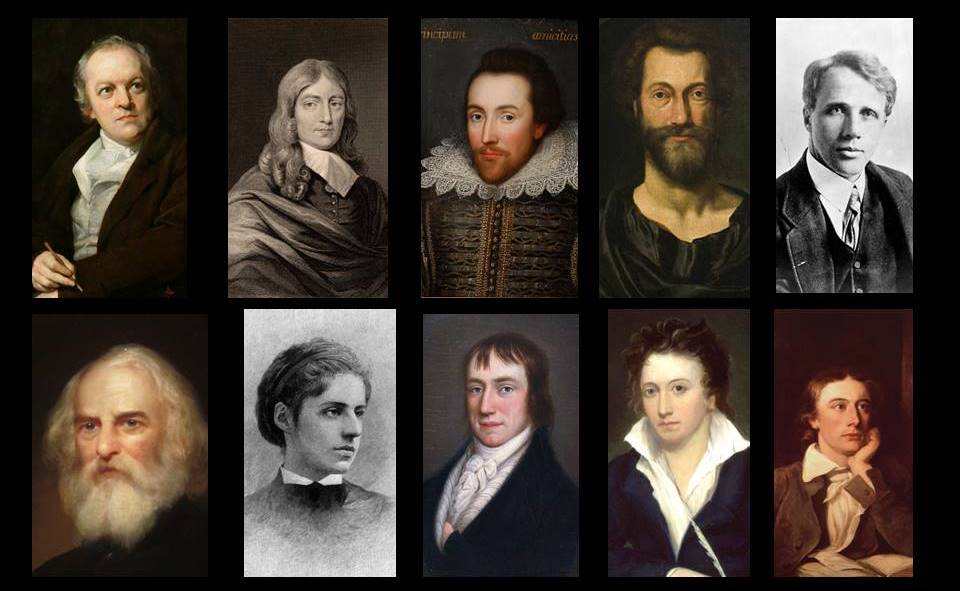 In 1995, a group of publishers, teachers, librarians, and poets met to discuss the need to celebrate poetry. The result? Since then, the month of April has been declared as National Poetry Month.
During this month, publishers promote their newest poem publications, and librarians and educators teach poetry units. Projects like Poem-A-Day or Dear-Poet celebrate poetry by encouraging people to read or write one new poem a day.
In the past, this month has been celebrated by putting Langston Hughes, a renowned American poet, onto postage stamps and even lighting up the Empire State Building in blue!
Celebrations aside, poetry is a literary art form that dates back to the origins of human language. Poems have been composed throughout history by creative minds who want to convey their ideas through emotion, imagery, and wordplay.
We profile three such creative poets: Dante Alighieri, Rabindranath Tagore, and Robert Frost, some of the best poets of all time.
Dante Alighieri: An Italian Genius
Dante Alighieri was born in Florence, Italy around 1265. He grew up studying Tuscan poetry, poetry from Homer and Virgil, painting, and music.
At age nine, he fell in love with a woman named Beatrice Portinari, but Alighieri was engaged to someone else at the age of 12. His love for Beatrice became the inspiration for his poetry.
Along with the influence of other poets, he wrote the Divine Comedy, which describes Dante's journey in life through "Hell, Purgatory, and Paradise." During this time period, poems were primarily written in Latin, but Alighieri wrote his poems in Italian since he believed that poetry should be spread beyond Latin writing. He soon turned to philosophy and participated in political conflicts in Italy, but he was exiled after being branded a traitor by the new political body. Other famous works of his include Convivio ("The Banquet") and La Vita Nuova ("The New Life").
Rabindranath Tagore: A Pioneer in Poetry
Rabindranath Tagore was born in Calcutta, India in 1861, during a time when India was under British control.
Tagore grew up in a family full of literary and artistic minds - many of his family members were musicians and writers. Tagore hated education, especially English, but he wrote his first poem when he was eight. At the age of 17, he was sent to a school in England, but he left and self-studied instead.
His poems were first published in the language of Bengal, but translations of his poems made him well-known around the world. His work Gitanjali (Song Offerings) won him the Nobel Peace Prize in Literature in 1913. In addition to poetry, he wrote drama pieces, novels, and songs which focused on the lives of common people.
Tagore's fame took him across the globe, as he traveled to many countries and spread his ideas during friendship tours. During these meetings, Tagore was introduced to many people, one of whom was Robert Frost.
Robert Frost: A Globally Recognized Poet
Born in 1874, Robert Frost grew up in San Francisco, California. His father was a teacher and newspaper editor, but after he died, Frost and his family moved to Massachusetts. Frost developed an interest in poetry during his high school years and in college, his first published poem "The Butterfly" appeared in The Independent newspaper.
His wife, Elinor Miriam White, and Frost's life in New England were the main sources of inspiration for his poetry. At first, his poems were rejected by American magazines. After moving to England, Frost published two collections of poems, "A Boy's Will" and "North of Boston," both of which earned him global fame as a poet. His future publications earned him four Pulitzer Prizes in Poetry!
In 1961, he presented the poem "The Gift Outright" at President John F. Kennedy's inauguration, and a year later, he was awarded the Congressional Gold Medal. By the time he passed away at age 88, Robert Frost became known as one of the best American poets, and his poetry is still revered to this day.
These are the short biographies of only three of the world's greatest poets - there are many more poets and poems to learn from. And best of all, you can be a poet too! For this year's National Poetry Month, write a poem about something you feel passionate about and share it with someone else!
Sources: Ranker, Poetry Foundation, poets.org, NobelPrize.org