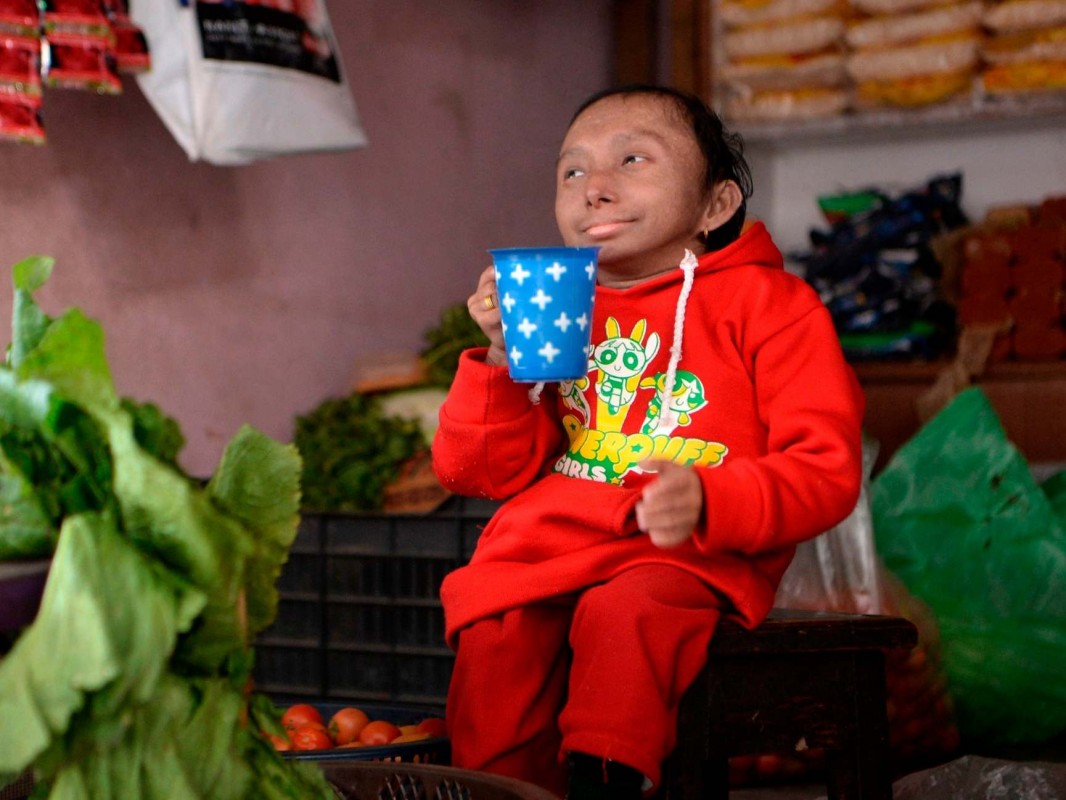 Have you ever wondered what it would be like to hold a Guinness world record?
Guinness World Records has over 40,000 records in its database. From the oldest person living to the largest pizza, the categories are endless! Amidst these, one of the most popular records focuses on the shortest people alive. 
Khagendra Thapa Magar, standing at 67.08cm (26.4 in) tall, held the record for shortest mobile man alive. He sadly passed away on January 16, 2020, at the age of 27. 
Journey to the World Record
On October 14th, 1992 Roop Bahadur and Dhan Maya welcomed a baby boy into the world. But, there was something different about him: He fit in the palm of a hand!
This tiny baby would be named Khagendra Thapa Magar, which means "Lord of the Birds". Khagendra started to grow, but it soon became clear that he would not be the same size as other boys his age. 
He tried to do things that other kids his age were doing. He loved to hang around in his family's shop. He rode around on a motorcycle with his younger brother (who actually grew to be full size). Khagendra also loved to play music; one of his favorite things to do was play the madal drum, which is a musical instrument used in the folk music of Nepal. 
Khagendra's parents submitted an application to Guinness World Records when he was around 17 years old. In February of 2010, Guinness World Records flew him and his family out to Rome to be measured. It was determined that he was the shortest living male teenager. As his birthday approached in October, he was set to take the title of the shortest living male adult from Edward Niño Hernandez, the man who had the title before him.
Guinness World Records separated this category into two subcategories: those who can walk, and those who cannot walk. Khagendra underwent more measurements on his birthday, and it was determined that he was the shortest living adult male who could walk. Later, he lost this title, when Chandra Bahadur Dangi was discovered, at a height of about 54.6 cm (21.49 inches) tall. Khagendra regained his title of the shortest mobile man alive when Dangi passed away in 2015.
Khagendra's Legacy
Living life in a world made for people way taller than you is a huge challenge. Despite this, Khagendra always had a huge smile on his face. 
He was made the ambassador of the Nepal Tourism Board in 2011 and has had the opportunity to meet other record holders. He has his own foundation, the Khagendra Thapa Magar Foundation. He used his popularity to spread awareness about people like him and to build a better life for his family in Nepal.
When he earned his title in 2009, Khagendra said, "I don't consider myself to be a small man. I'm a big man. I hope that having this title enables me to prove it and get a proper house for me and my family." This young man has touched the hearts of many, and will truly be missed.
The record for the shortest mobile man in the world has reverted back to Edward Niño Hernandez of Colombia, who has a height of 71.12 cm (28 inches).
Sources: Guardian, AlJazeera, Guinness World Records