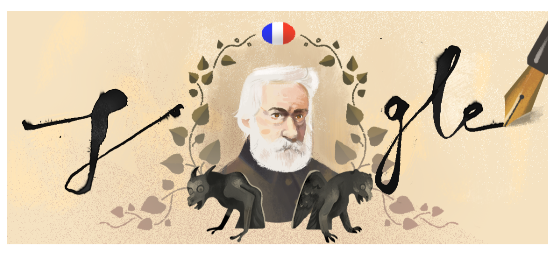 Before "Hamilton", there was "Les Miz", the popular musical about Jean Valjean. Valjean is a convict who breaks parole after being released from prison, during a time of rebellion and revolutionary uprising in France. 
Did you know that behind the dramatic songs and lyrics of "Les Miz" is Victor Hugo, the author of the novel "Les Miserables" on which the musical is based?  
On June 30th, Google honored Victor Hugo on the anniversary of the publication of this epic novel in 1862. 
Who is Victor Hugo?
Victor Hugo is France's best-known writer.  He was born in Besancon, France, on February 26, 1802.  He achieved early success, publishing his first collection of poetry when he was only 20 years old in 1822.  
Throughout the rest of his career, he continued to publish many poetry collections as well as novels.  Outside of France, he is most famous for "Les Miserables" and "The Hunchback of Notre Dame".
In 1841, he was elected to the Académie française (French Academy), the French council for matters relating to the French language.  Thereafter, he became more politically active, speaking out against social injustice, poverty, and the death penalty.  After the revolution of 1848 established the Second Republic, he was elected to its parliament.
However, in 1851, Napoleon III seized power and set up an anti-parliamentary constitution.  Victor Hugo declared Napolean III to be a traitor to France. He exiled himself to Brussels in Belgium, and later to Jersey and finally to Guernsey-- both islands off the coast of Normandy.  While in exile, he wrote two famous political pamphlets against Napolean III. He remained in exile until 1870 when Napolean III fell from power and the Third Republic was established.  Victor Hugo returned to Paris and was again elected to parliament.
Victor Hugo passed away on May 22, 1885, at the age of 83, and the entire country mourned his death.  Not only was he a great figure in literature, he was also a political figure who helped shape democracy in France. More than two million people joined the funeral procession from the Arc de Triomphe to the Pantheon where he is buried.
Les Miserables
Even though "Les Miserables" was published in 1862, Victor Hugo started working on the book in the 1830's.  
In the book, Hugo explores themes of social misery and injustice. The story is set against the backdrop of the June Rebellion of 1832, a two-day uprising against the French monarchy that was quickly suppressed. The book was very popular when first published and it has remained popular to this day. It has been adapted as a stage musical and Hollywood movie.
Have you read the book Les Miserables or seen the play? What stands out for you from the book or play?