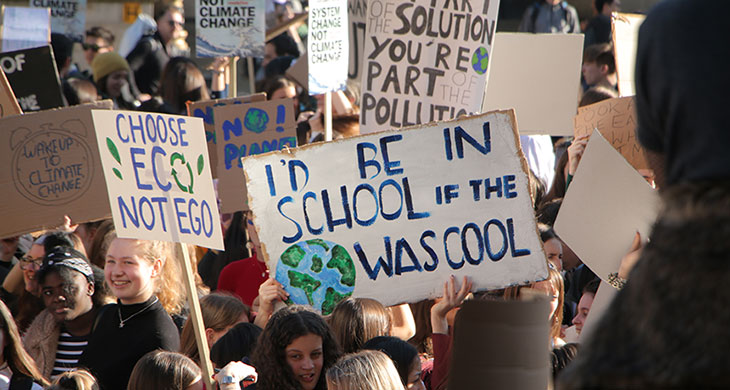 Most adults think that today's teens don't care about anything other than the likes they get on their Instagram posts and the latest memes.
But on March 15, 2019, hundreds of thousands of young individuals around the world proved these adults wrong. Teens from over 100 countries collaborated to march in awareness of severe climate change, a critical issue that many adults are simply not taking action on.
From America to Australia, even to developing countries such as Nepal, empty classrooms represent the determination of this generation.
Fridays for Futures
The movement #FridaysforFutures began after Greta Thurnberg, student and Swedish activist, became aware of the wildfires in Sweden's Arctic region.
Thurnberg sat outside the Riksdag (Swedish Parliament) every day during school hours with her sign "School strike for the climate," and announced that she would continue to strike every Friday until the Swedish government reduces carbon emissions. Her slogans, #FridaysForFuture, and #ClimateStrike went viral on Instagram and Twitter, inspiring other student activists to take action.
These inspired teens began mass protests and strikes around the world, urging adults to work harder to address climate change.
A Dying World
The United Nations Intergovernmental Panel on Climate Change IPCC report says there are only 12 years left to keep our Earth's temperature from rising above 1.5 degrees Celsius. This is also supported by scientists who agree that the production of more greenhouse gases could deem the Earth inhabitable.
Many student protesters are also aware of this fact, and they protest in concern of a dying planet that is being left in their hands. Different students have different end goals, such as Nadia Nazar, sixteen, who believes it's possible to move entirely to renewable energy sources by 2030, and Jennifer Ojilere, seventeen, satisfied with just getting awareness.
Some governments have voiced their concerns over students skipping class and workloads for the teachers. It was one of the reasons why Korean students chose to finish their lessons before taking the streets. However, others, such as Environment Secretary Michael Gove, back up the protesters in a video, arguing that "collective action of the kind you're championing can make a difference and a profound one."
Climate change is serious. It contributes from just an unusually hot day in a cold region to more drastic natural disasters. But Greta Thunberg doesn't believe that saving Earth is as complicated as it sounds. As she says in her 2018 TED Talk, "The climate crisis has already been solved; we already have all the facts and solutions. All we have to do is to wake up and change."
Sources: Al Jazeera, BBC, Guardian, CNET, TED