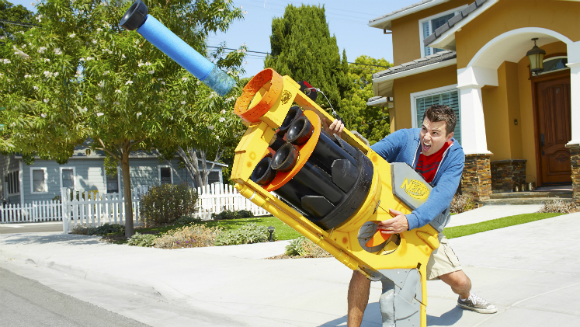 Can you imagine a Nerf gun so big that it makes the actual toy look like a dwarf? 
On March 4th, the Youngzine team had an amazing opportunity to interview Mark Rober in Bay Area, California. Mark holds the 2017 Guinness World Records title for the Largest Nerf Gun!
Mark's enthusiasm and passion for bringing science to children were immediately obvious when we met him. 
How Do Nerf Guns Really Work?
In this video below, Mark shares with us how he came up with the idea of building the Nerf gun. He also explains the science behind how Nerf guns work, and how he had to scale the parts to a larger size. You will be surprised to learn what the darts are made of!
A Passion For Science
Mark is a mechanical engineer who started his career at NASA, where he worked on the Curiosity Rover that is currently exploring the surface of Mars. Since landing on Mars in 2012, Curiosity has helped scientists to better understand the red planet (read our earlier article HERE). Mark left NASA to start a company that created wearable digital Halloween costumes and hosts his own Youtube channel on popular science and do-it-yourself projects.
Let's hear Mark share his journey and his love for science. He also shares tips on how you can come up with ideas for science projects by being curious about the world around you. 
See The Nerf Gun In Action!
We asked Mark what it feels like to be a Guinness World Records title holder.
[Mark Rober] I have always loved playing with Nerf guns. And I always loved engineering. So, it was just natural to make a really big Nerf gun! It went pretty viral on Youtube, and a couple of weeks later, I heard from Guinness World Records saying "Hey, you have set a record for the Largest Nerf Gun!" And I said, "Who is the previous record holder?" They said "There is no one! We are creating a category just for you!" It has kind of been a life goal to win a record. I really wanted that, but it is amazing when it happened.
Youngzine would like to thank Guinness World Records for introducing us to Mark Rober. Be sure to check out GUINNESS WORLD RECORDS 2017: Blockbusters! to learn about other fascinating world records.