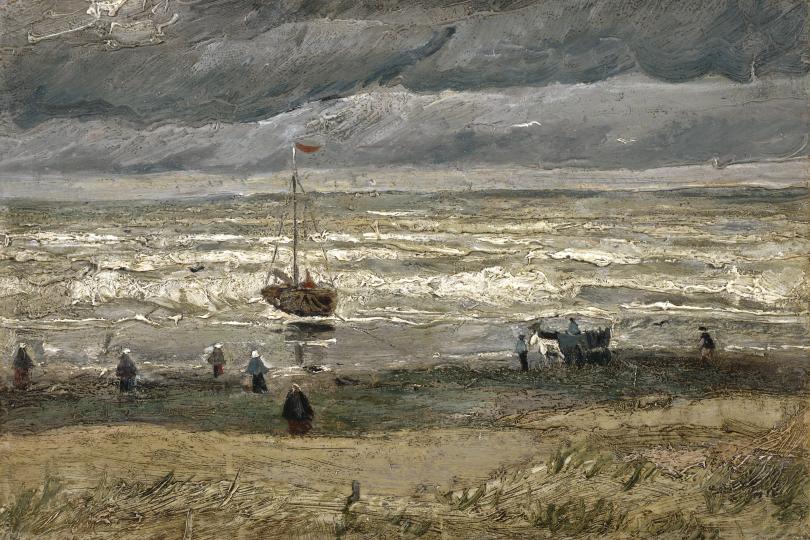 Drug busts can sometimes lead to the strangest of finds. When Italian police raided a country house in Naples belonging to a businessman, they were in for a surprise.  
Behind a mirrored wall, they found two paintings by van Gogh that had gone missing in 2002 from Amsterdam's Van Gogh Museum. The home belonged to Raffaele Imperiale, a man involved in an international drug smuggling ring and associated with one of Italy's most notorious Mafia gangs.
The paintings, "Seascape at Scheveningen" and "Congregation Leaving the Reformed Church in Nuenen" are two of van Gogh's early works. Museum officials have confirmed that the paintings indeed are the original. Only 5-10% of paintings stolen and sold into personal collections are recovered, which makes this find a joyous one.
Let's look at the famous artist behind this prized recovery. 
A Shaky Start
Vincent van Gogh was born on March 30th, 1853, in Holland. The son of a Protestant minister, he was brought up in a highly religious atmosphere. After completing several years of erratic education and working unsuccessfully as a clerk, art salesman, and preacher, he was convinced by his younger brother, Theo, to become an artist.
Van Gogh was around 26 at the time and had no money, nor any training in art. He went to Paris in 1886, where he studied art and began to use his signature bright colors and short impressionist brushstrokes. He lived with Theo, who was an art dealer and had been financing his brother's artistic endeavors for some time.
In 1888, Van Gogh went to Arles, France, hoping to found an art school with fellow artist Paul Gauguin, whom he had befriended in Paris. But the friendship of the artists was not destined to last: van Gogh's mental instability had begun to reveal itself. He struggled with fits of madness, and in a psychotic attack, he pursued Gauguin with a knife and threatened him. Gauguin managed to defend himself, but van Gogh cut off a portion of his own earlobe in his insanity. Gauguin left Arles, and van Gogh was sent to an asylum in Saint-Remy, France, for treatment. His dream of an art school was shattered.
The Starry Night of Madness
It was in the asylum, confronted with madness, that van Gogh painted his most well-known masterpiece, Starry Night. The swirling strokes of Starry Night may have represented the confusion and fear van Gogh felt at his loss of complete sanity. 
Van Gogh was released from the asylum in May of 1890. Two months later, feeling that his life was wasted and a personal failure, he created his last painting, Crows in the Wheatfield. This work ominously depicts a storm of crows coming toward the observer, suspended in a darkening sky over a chaotic field of wheat. Soon after the painting was complete, van Gogh borrowed a gun from a friend, walked into a nearby wheatfield, and shot himself. 
Though many may view van Gogh's untimely death as the effect of his madness, he had made a calm decision. He looked at death as simply a passage to another world, or 'star' as he described it in a letter to Theo, and he wanted to get to that star as soon as possible.