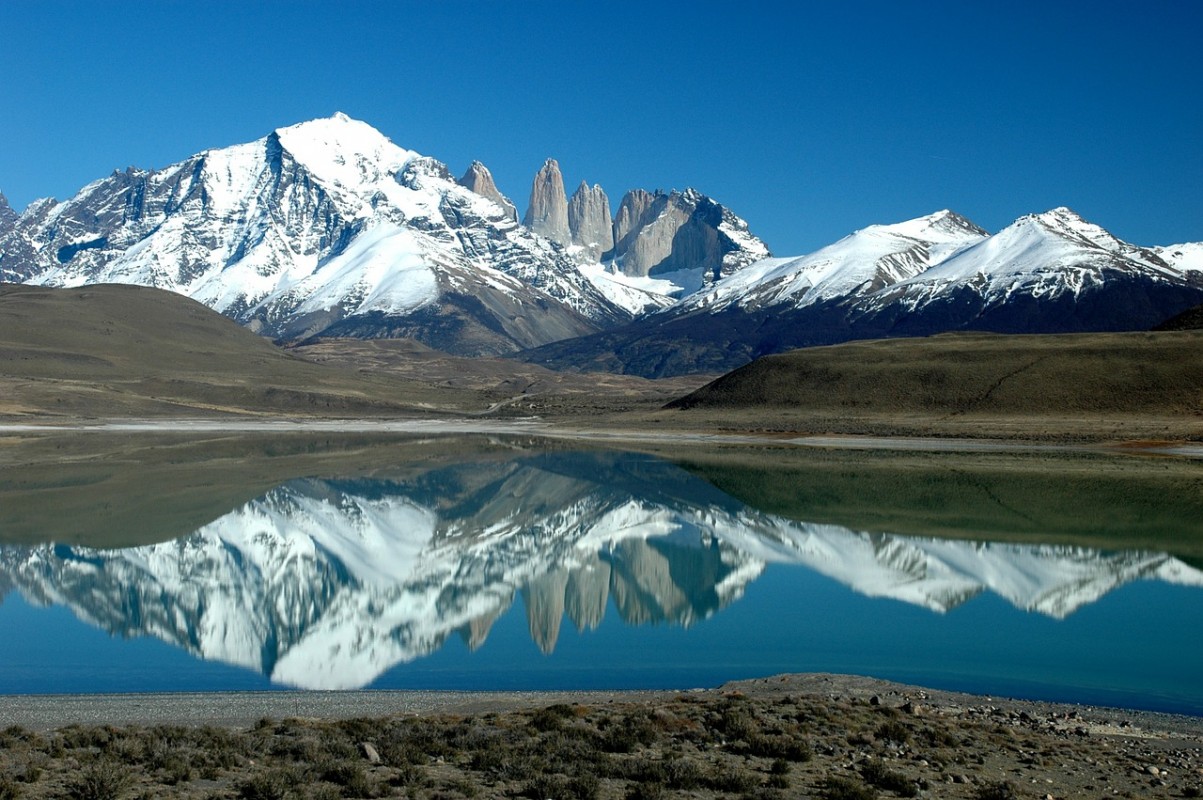 Imagine a wild and pristine landscape with jagged mountain peaks, glaciers, and vast flatlands known as steppes! You are in Patagonia, a region that covers the lower part of Chile and Argentina in South America. 
In January of this year, a formal agreement was signed between the government of Chile and the Tompkins Foundation. More than 10 millions acres of land that was privately held by the Tompkins Foundation was donated to Chilean Government in what is considered the largest land donation in history.
Recently, Chile unveiled 17 new national parks and a scenic trail known as the "Patagonian Route of Parks" that traverses them.
Pristine Patagonia
The larger part of Patagonia is in Argentina. It is bordered by the Colorado River in the north and ends with the Tierra del Fuego, the southernmost tip of South America which is the gateway to Antarctica. This region consists of plateaus and shrub-like vegetation.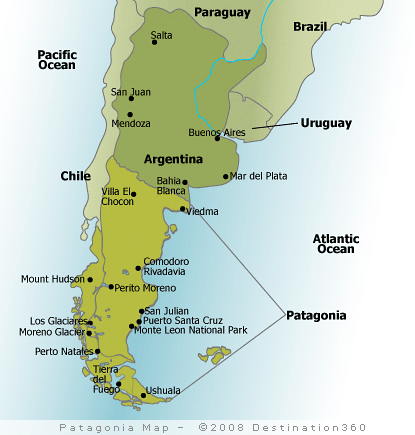 In Chile, the Patagonian region begins south of the city of Puerto Montt and consists of rugged coastlines, uninhabited islands, and fjords. Torres del Paine is the largest and most visited park.
Much of Patagonia is shaped by the majestic Andes mountains which block rain-bearing westerly winds - creating a more lush landscape in Chile and a semi-arid and desert landscape in Argentina. 
The term Patagonia comes from the Portuguese word patagón which means "land of the big feet."  It was named by Portuguese explorer Ferdinand Magellan, who saw big footprints when he came ashore in 1520. Indeed, these might have been the marks of the Tehuelche Indians who inhabited these lands and were larger and more rugged than the Europeans. Another story goes that Magellan named the land after Patagon, a dog-headed monster from a novel that was popular in Europe at the time.
The land is sparsely populated, which means there is plenty of wildlife. Besides hiking the rugged terrains, visitors flock to see penguins and whales, spotting birds such as condors, and unusual mammals such as the pudu - a 13-inch tall deer!  
A New National Park
Doug and Kristine Tompkins, founders of Patagonia and Northface - two very successful companies, had moved to Chile. The two were passionate conservationists who acquired lands in Chile and Argentina and restored the ecosystems. When Doug passed away in 2015 in a kayaking accident, his wife decided to donate the land back to Chile. 
With this donation, Chile has been able to expand two national parks and create 17 new parks. A 1700-mile-long trail from the city of Puerto Montt down to Cape Horn will take you through lakes, volcanoes, and mountains. This is similar to other trails such as the Great Trail across Canada, the Appalachian Trail in the U.S and the Himalayan Trail in Nepal.
Do you love hiking, and do you see yourself trekking this wild Patagonian trail some time?
Sources: BBC, CNN, Independent.co.uk, Brittanica, Wikipedia