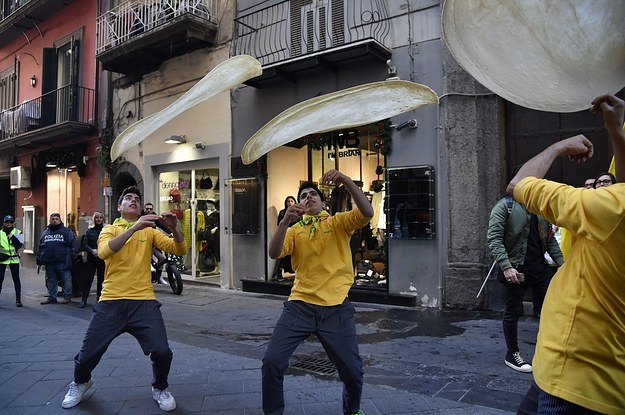 Pizza is everyone's favorite food. It's great to share with friends, to bring to a party, or just to enjoy by yourself. Recently, it has even received recognition from a branch of the United Nations!
The role of UNESCO (a branch of the United Nations) is to foster peace, diversity and international co-operation in education, science, culture, and communication. Cultural heritage can be found in museums, monuments, art, tradition, and more. On the streets of Naples, Italy, tradition is found in the art of pizza spinning.
The History of Pizza
Did you know that the pizza as we know it today, became popular in the United States before it did in Italy - the country where it was born?
Pizza has been a part of Italian culture for centuries. In the 1700s and the 1800s, the city of Naples in Italy was an independent kingdom, known for its large working class. Pizza began as a "poor man's food"--as a way to feed people in poverty quickly and at a low cost. Flatbreads with different kinds of toppings such as cheese, tomatoes, anchovies, oil, and garlic were considered street food and looked down upon by wealthy Italians.
In 1889, King Umberto 1 and Queen Margherita visited Naples, which had by then come under a unified Italy. On their visit, the royal couple enjoyed pizza from a local eatery. The queen's favorite turned out to be pizza topped with cheese, tomato, and basil -- it is no surprise that it came to be known as Pizza Margherita! 
When Italians from Naples migrated to the United States, they brought more than just their desire for a better future. Pizza shops opened in New York and other cities, and the craze caught on. It was only after World War II that Italians picked up on pizza.
The Art Of Pizza Twirling
The skills for pizza making have been passed down in the city for generations, and those who know are called "pizzaiuoli". Pizzaiuoli are a select group of people; they need both talent and practice to learn to prepare, roll and bake the dough properly.
According to UNESCO, about 3,000 pizzaiuoli work in Naples right now. In the city, there is also a museum dedicated to the art of pizza spinning and an academy in which 120 students each year can train to become pizzaiuoli themselves. Pizza fans and pizzaiuoli alike are excited about UNESCO's decision. Some shops even celebrated by handing out free slices on the streets of the city.
The designation of pizza spinning as a cultural heritage recognizes the hundreds of years of culinary history behind the popular food that has now taken hold all over the world. As pizzeria owner Romano Fiore said after, "I am honored like all Italian and Neapolitans are."
Courtesy UNESCO, CNN, NYPost