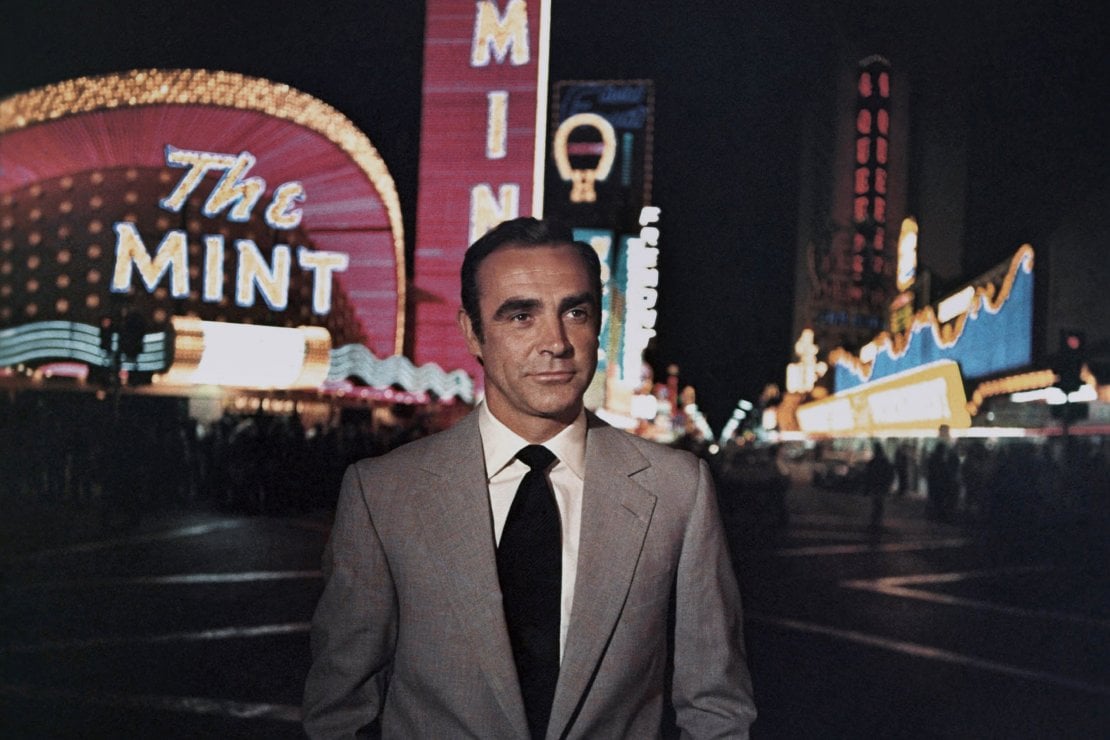 "My name is Bond. James Bond." This phrase was made famous by Sean Connery in the first James Bond movie. And since then, moviegoers have come to anticipate this phrase by the 007 Secret Service agent in all subsequent Bond movies!
On October 31, Sean Connery passed away at the age of 90. The entertainment industry lost another icon a week later with the passing of popular Jeopardy show host, Alex Trebek.
Let's look at the life and legacy of these two men who were giants in their own right.
Who Was Sir Sean Connery? 
Thomas Sean Connery was born in Edinburgh, Scotland, in 1930. Growing up in a working-class neighborhood, Connery had a rough childhood. His parents died when he was 11 and he dropped out of school at age 13 to work various jobs. At 16 years old, Connery joined the Royal Navy but was discharged three years later when he got stomach ulcers.
Connery entered the acting industry in 1954, playing the role of Lieutenant Buzz Adams in the musical South Pacific. He had some minor roles in movies and shows and a lead role in the movie Blood Money.
Connery's career took off in 1962 with Dr. No, the first of many movies based on Ian Fleming's James Bond books. Connery added his flair to Bond. He portrayed Bond as handsome and charismatic, but also witty and dangerous. The audience loved it and Connery went on to make four more James Bond movies. After the fifth one, he got tired of playing the same character and rejected an offer to star in a sixth movie. He eventually agreed to do one more James Bond film in exchange for $1.25 million and another one in 1984 because he needed money.
With 007 permanently behind him, Connery took on different acting roles, showing his versatility and even winning an Oscar. He was knighted by Britain's Queen Elizabeth in 1990, earning the title "Sir.' Connery leaves behind a long and fruitful career, a far cry from his troubled childhood.
Who Was Alex Trebek?
Alex Trebek was born in Ontario, Canada, and moved to America in 1973. The first show he hosted was an NBC show, The Wizards of Odds. In the next few years, Trebek hosted several shows and made guest appearances in many other shows. In 1984, he became the host of Jeopardy! 
Fans loved Trebek's wit and humor. Trebek knew how to poke fun at the contestants without being mean. Aside from one episode on April Fool's Day when he switched game shows with Pat Sajak, Trebek has never missed an episode of Jeopardy!. He kept the format of Jeopardy! consistent since 1984, and Jeopardy!-watch parties became a regular event in many homes. Jeopardy! was highly successful, winning 35 Emmys, the most any game show has ever gotten.
But it was not all fun and games. In 2019, Trebek announced that he had stage IV pancreatic cancer. He underwent chemotherapy and was in great pain. Despite all this, Trebek maintained a positive attitude and was transparent with his fans, inspiring many people with his perseverance. Trebek passed away at age 80 on November 8, 2020.
Sean Connery and Alex Trebek both left a lasting mark on the entertainment industry. Connery, with his roles in the popular James Bond movies that generations of movie-goers continue to enjoy, and Trebek, as the host of the beloved game show that has become a staple in many American households.
Sources: BBC, NYTimes, NPR, Wikipedia, Jeopardy!