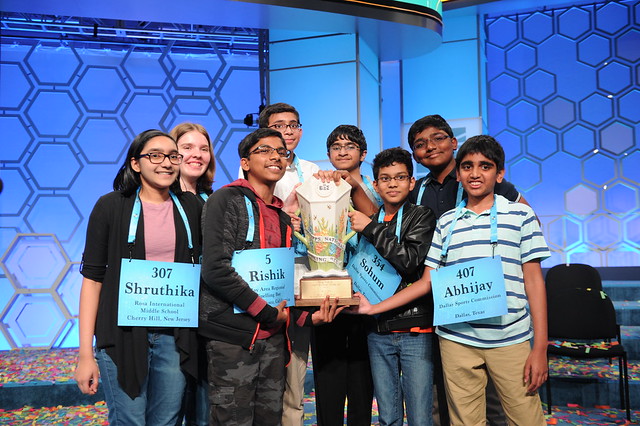 History was made last Thursday at the Scripps National Spelling Bee contest!
For the first time in 92 years, eight contestants between the ages 12 and 14 were crowned joint winners. They have come to be known as the 'octochamps.'
Even though the contest dragged on close to midnight and the words kept getting more difficult, the spellers were undaunted. Words like 'erysipelas', 'pendeloque', and 'aiguillette' were a walk in the park! Each of the eight winners will receive $50,000 and their own trophy. 
A Unique Situation
Usually, the contest has two spellers who battle it out to the end. The organizers plan a certain number of words assuming that the final two will go on for several rounds. In fact, the 2017 event went on for 36 rounds before a winner was crowned. 
In the years 2014, 2016 and 2016, there were two co-champions. But with eight strong spellers going strong until round 17 this year, Jacques Bailly, the official pronouncer, announced that the Spelling Bee organization was in a position it had never been before -- they were running out of challenging words! He continued that the contest would end after 20 rounds, and all those who make it to the end would be declared co-champions.
Preparing For The Bee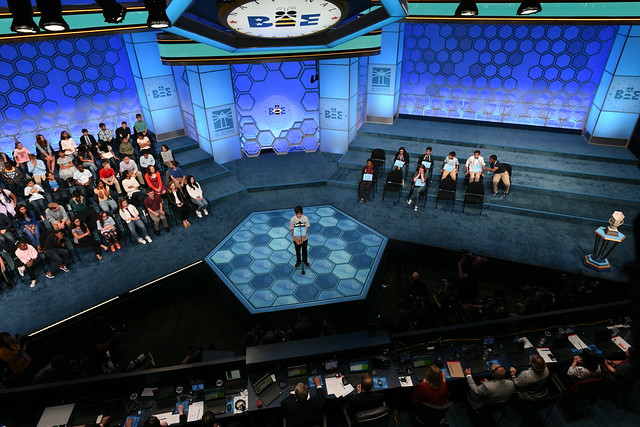 The National Spelling Bee had its humble origins in Louisville, Kentucky in 1925. The Scripps Howard News Service took over the Bee in 1941. Since then, the Bee has been held every year, except for the three years during World War II. 
It is a long road to the finals, as contestants have to get past multiple rounds, grueling elimination, and state level qualifiers. And let's not forget the preparation. Spellers seem to know their dictionaries from cover to cover and spend up to 30 hours a week training outside their school schedule. Besides the words, they learn about root words and language of origin, each of which gives useful clues to the spellers. Read our earlier article here on word roots. 
This year's winners are Rishik Gandhasri (age 13), Erin Howard (14), Saketh Sundar (13), Shruthika Padhy (13), Sohum Sukhatankar (13), Abhijay Kodali (12), Christopher Serrao (12), and Rohan Raja (13). 
The youngest speller this year was seven-year-old Faizan Zaki, a first grader from Allen, Texas. It may be a matter of time before we see young Faizan holding a trophy!
Sources: NYTimes, VOX