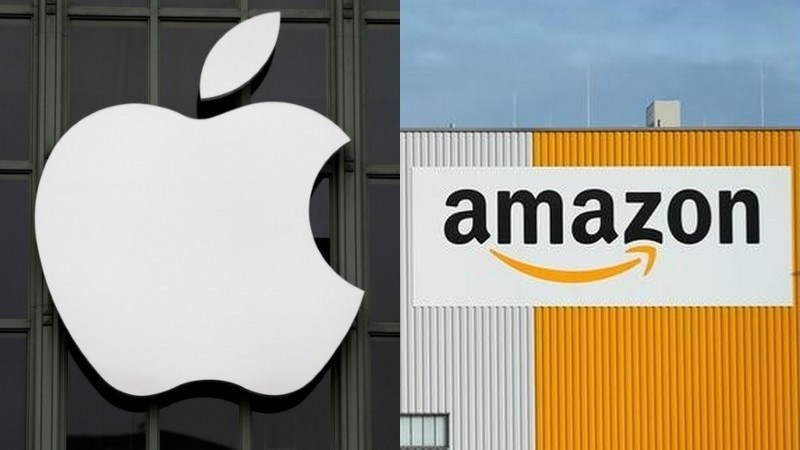 Over the past month, two companies hit the trillion-dollar mark!
On August 2, Apple, a technology company exceeded a market value of 1 trillion US dollars. For a company that was almost going bankrupt two decades ago, this is an impressive turnaround. But Apple is not alone. Earlier this month, Amazon hit the same milestone.
Market cap, short for market capitalization, is the amount of money it would cost someone if they were to purchase all the shares of a company. That means to buy all the shares of Apple, it would cost one $1 trillion US dollars! To understand more about shares and how stock markets work, read our earlier article here. 
While the actual value of both the companies fluctuate each day, reaching a market value of $1 trillion is nevertheless astounding. What is a market cap and what has made these two companies incredibly successful?  
Apple, From The Core
Apple has come a long way since it first began. From the Apple I, a motherboard without a keyboard to the new Apple Watch, they have released exactly what people desire.
Apple was established on April 1, 1976, by Steve Jobs and Steve Wozniak in Los Altos, California. Their first "offices" were in the garage of Jobs' parents home. The initial product was the Apple I, a motherboard with limited functionality. However, it sold for a very high price of $666.66. In 1977, the Apple II was released and was a huge success for the company. The revenue collected by this device was off the charts.
By 1984, Apple released the Macintosh, which was a huge leap forward for the company. During the seven years between the Apple II and the Macintosh, another tech company, by the name of IBM had caught up. Apple struggled to keep up with the competition and Jobs was dismissed as CEO of the company. He was replaced by John Sculley until 1993. In 1997, Jobs became CEO once again and introduced a new marketing strategy with a new slogan: Think Different. Apple released sleeker Mac computers, music devices, and the popular iPhone which took the world by storm. Apple has taken back the leadership position it once held.
While Apple took almost 42 years to achieve this milestone, Amazon has achieved the same feat in 23 years.
History of Amazon
Amazon was founded in 1995 by Jeff Bezos, in Seattle Washington. He had a vision for the company's explosive growth and e-domination.
Bezos wanted Amazon to be an "everything store" and wanted the title of the company to be magical, hence the first name "Cadabra". He later altered the name because his lawyer said that it sounded too much like "cadaver", especially over the phone. As a fun fact, Bezos also favored the name "Relentless", so if you search up "relentless.com", it leads to Amazon's website! Bezos eventually agreed to Amazon, because he liked the idea of his company being named after the largest river in the world.
In 1998, the Christmas holiday season was a blockbuster for Amazon. As orders poured in, employees had no choice but to sleep in their cars before going back to work the next day. In 1999, Amazon attempted to enter the publishing world, but it didn't work out as they hoped. By 2000, Amazon had already started conquering the online shopping world. They went from only selling books to selling anything you could think of. Read our articles about Amazon's purchase of Whole Foods and PillPack.
Interestingly enough, Amazon doesn't earn most of its annual revenue from their online shop. A majority of their profits is earned from their cloud services and technology. Amazon is a great example of a company which adapts with the times and the need of their customers.
The story of Apple and Amazon is also the story of two men with a powerful vision to change the world, and the result of years of dedication and hard work. Who's next?
Sources: Business Insider, CNN, CBS, Wikipedia, TheVerge