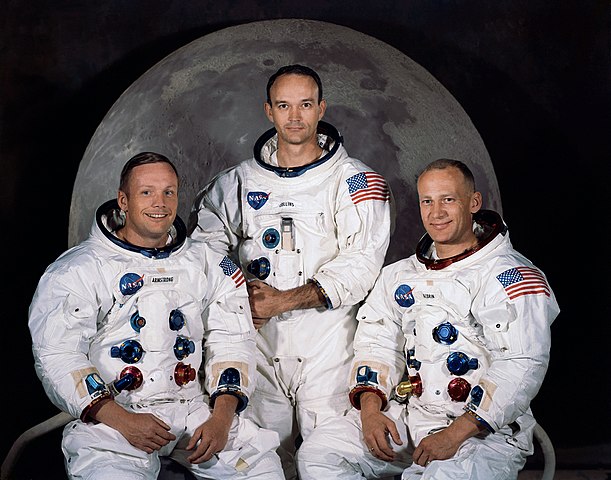 When we think of the 1969 moon landing, two names come to mind -- Neil Armstrong and Buzz Aldrin. But there was a third crew member who piloted the spacecraft.
Michael Collins played an instrumental role in the Apollo 11 mission, and earned the nickname "the loneliest man."
On April 28, Michael Collins passed away at the age of 90 after a long battle with cancer. We look at his life and the historic mission.
Life Before Space
Michael Collins was born October 31, 1930, in Rome into a military family. His father and elder brother were military generals and his uncle was an Army chief of staff.
Collins himself would regularly visit army postings with his parents, and his childhood saw moves to Oklahoma, New York, Puerto Rico, and Virginia. After high school, Collins would go on to West Point Military Academy in New York, from which he graduated in 1952.  
He enlisted in the Air Force and went on to become a jet fighter pilot. In 1953, Collins underwent advanced day fighter training in Las Vegas, Nevada's Nellis air force base, and though he missed the Korean War, he would move to the California George base. He was later posted to Chaumont, France, where he met his wife Patricia Finnegan. 
The Loneliest Man in History
In 1957, Collins returned to the U.S., and after leading several training programs, he joined the test-pilot program at Edwards Air Force Base in California.
Three years later, he was chosen by NASA as a member of the Apollo lunar mission, and in 1966, embarked on the Gemini 10 mission with Navy Cmdr. John W. Young. The mission was successful, with Young and Collins catapulting a record 475 miles into space and orbiting the earth 43 times.
Collins made history as the first man to emerge from a spacecraft twice in one mission on spacewalks: photographing stars' ultraviolet rays and retrieving a scientific device from an abandoned spacecraft from the previously aborted mission.
Then, on July 20, 1969, Collins held his breath as the lunar module carrying his crewmates Neil Armstrong and Buzz Aldrin, descended on the moon. Collins piloted the Columbia spacecraft that orbited the moon at 3,700 miles per hour while communicating with NASA and his crewmates. 
As the rocket passed the dark side of the moon, Collins lost contact with NASA and his crewmates, and his 48 minutes in silence, suspended thousands of miles above the earth, gave him the nickname of "the loneliest man in history." He had 18 plans for alternate situations should he need to rescue his crewmates or was unable to reconnect with them. 
Fortunately, Collins' fears of returning to earth alone proved unfounded. The Apollo 11 mission successfully concluded with all three crewmembers landing in the Pacific Ocean. In 1969, Collins was awarded the Presidential Medal of Freedom.
Collins would leave NASA in 1970, choosing to spend time with his wife and family. After seeing the fragility of the Earth from afar, Collins championed ecological causes. He would serve briefly as assistant secretary of state under President Richard Nixon, and later become the director of Smithsonian's National Air and Space Museum in 1971 and undersecretary of the Smithsonian Institution in 1980.
He retired from the Air Force Reserve in 1982 and penned several books, including the acclaimed memoir Carrying the Fire, in which he described his encounters in space.
Sources: Guardian, NY Times, CNN, BBC, NASA