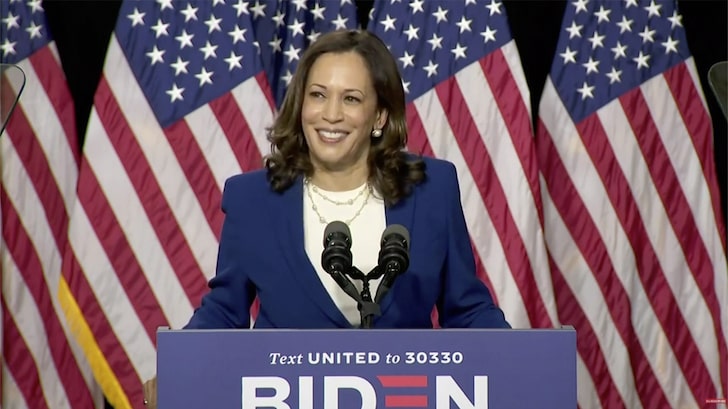 On Tuesday, Joe Biden - the nominee for the Democratic Party, announced his pick for Vice President.
For months, ever since Biden announced he would select a female running mate, media were left guessing who that might be. There were several qualified women, from Senator Elizabeth Warren who ran her own presidential campaign, to Susan Rice who served as the country's national security advisor from 2013 to 2017. 
Finally, it is Senator Kamala Harris from California who will be on the ballot in November, representing the Democratic Party as its Vice President. Who is Kamala Karris and why was she chosen by Biden? Let's find out.
A Child Of A Strong Mother
Kamala Harris was born in the midst of the U.S civil rights movement to immigrant parents. Her father had arrived from Jamaica to study at UC Berkeley, and her mother from India (in South Asia). Berkeley was a hotbed for protests then, and little Harris joined the demonstrations with her parents, strapped to her stroller. 
From age 7, after her parents divorced, Harris and her younger sister were raised by their mother. Harris credits her mother for instilling in her the confidence that a girl can become anything she wants to be. Her mother had left India at age 19 for a Ph.D. in the U.S at a time when not many parents were comfortable sending their girl child to a faraway land.
Harris was also taught by her mother to embrace her color and identity. Following the Civil Rights Act of 1964, many U.S cities set out to desegregate schools. Until that time, schools in affluent areas only had white children, while African-American children went to schools in their low-income neighborhoods. In first grade, Harris and her friends were "bussed" across town to a predominantly white school as part of Berkeley's integration efforts. 
But most of all, Harris learned from her mother to "not complain when things go wrong, but to do something about it."  Harris took this to heart and as a young girl, she and her sister led a petition to convert an open space in their apartment complex into a playground!
"For the People"
Harris attended Howard University, a historically black college and later, went on to study law. Since then, she has broken every barrier for women.
Harris started her career as a prosecutor because she wanted to be a voice for vulnerable people, especially women and children. She ran for the office of District Attorney in San Francisco, becoming the first female and the first African-American woman to win. And in 2010, she became the first woman and African-American to win the election for the Attorney-General of California.
In 2016, since being elected to the U.S Senate, Kamala Harris has played prominent roles in the confirmation hearings of Supreme Court justices, and the investigation into Russian interference in 2016 U.S elections. Harris ran a campaign to be the leader of the Democratic party but dropped out before the primaries.
Joe Biden sees Harris as someone who shares his views on policies and police reform, and who will appeal to Black voters. By choosing Kamala Harris, Biden has also elevated the first woman of color to represent the Democratic Party. Could America be in for a historic first? We will know when polls close in November.
Source: NYTimes, CNN, Washington Post