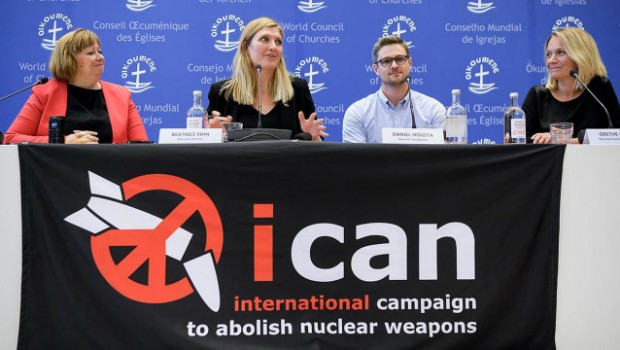 When Beatrice Fihn received a call informing her that her organization had won the Nobel Peace Prize, she thought it was a prank.
However, minutes later, it was announced that the International Committee to Abolish Nuclear Weapons (ICAN) had been selected by the Nobel Committee for the 2017 Peace Prize. It was certainly a sweet moment for Fihn, whose organization has been campaigning for a world free of nuclear weapons. 
According to Alfred Nobel's will, the peace prize is awarded to individuals or organizations who "shall have done the most or the best work for friendship between nations, for the abolition or reduction of standing armies and for the promotion of peace". 
The Power Of Nuclear Weapons
The world woke up to the horrors of nuclear weapons when the U.S dropped atomic bombs on Hiroshima and Nagasaki in August 1945. Besides killing thousands of civilians, exposure to radiation caused decades of damage and destruction. 
Ever since, there have been several global efforts to prevent the spread of nuclear weapons. In 1970, the landmark Nuclear Non-proliferation Treaty (NPT) was signed by 191 countries. The treaty is still in effect and aims to prevent the spread of nuclear weapons and promote peaceful uses of nuclear energy. The IAEA (International Atomic Energy Agency) enforces the treaty and inspects the use of nuclear material, especially by rogue countries.
In 2007, ICAN was created in Australia with a goal to "outlaw and eliminate all nuclear weapons". The ICAN founders felt that the previous Non-proliferation Treaty was not doing its part in banning nuclear weapons completely -- the way that biological weapons, chemical weapons, and landmines have been banned under international law.  
ICAN: Successes And Challenges
ICAN, which is based in Geneva Switzerland, has been working to build public support. It partners with non-governmental organizations in over 100 countries, such as peace organizations, humanitarian groups or environmental groups. In 2012, ICAN ran a campaign calling for the boycott of banks and insurance companies that invest in companies that produce nuclear weapons.

Currently, ICAN is trying to pass the United Nation's Treaty on the Prohibition of Nuclear Weapons, which bans the use, development, testing or storing of nuclear weapons under any circumstances. So far, the treaty has been officially signed by 53 nations. The organization is now trying to persuade nations to formally approve and implement the treaty. 
However, there are challenges. The world's largest nuclear powers like the U.S, China, Russia, and others have not signed on to this treaty. There are some who feel that banning nuclear weapons completely could be a mistake, especially with rogue countries like North Korea threatening to use them. They feel it is better to have close supervision as is being done by the Nuclear Non-proliferation Treaty.
Despite differing opinions, everyone agrees that the threat of nuclear weapons is real. The work of organizations like the ICAN deserves the recognition they get.