US First Lady Barbara Bush passed away at 92 in her home in Houston.
Barbara was the second woman (the first was Abigail Adams) to have her husband and son, former presidents George H.W. and George W. Bush, sworn into office. 
Around 2,500 mourners attended her public viewing, wearing blue, which was Barbara's favorite color. Her husband, George H.W., shook the hands of mourners as he sat beside his wife's casket. The First Lady's private funeral last Saturday included the former presidents and the current First Lady, Melania Trump.
A Devoted Wife And Mother
Barbara Bush was born on June 8, 1925. Her mother was the chairwoman of the Garden Club of America.
Even before her marriage, she had connections to the White House -- her father was a distant descendant of former President Franklin Pierce! She grew up in New York City and the thing she loved to do most was read. Barbara met her husband, George H.W. Bush at a Christmas dance when she was 16. They were separated during World War II but kept in touch through letters, finally marrying in 1945 when George was home on leave.
George and Barbara Bush had 6 children (one of whom died at age 3) and 17 grandchildren. Of all the US presidents, they had the longest marriage. She supported her husband and her sons in their Presidential bids. When she was diagnosed with congestive heart and lung failure, she declined all further treatment and chose to spend her last days in the comfort of her home, surrounded by family.
In The Public Eye
During her husband's presidency, polls proved that Barbara herself seemed to be more popular than her husband!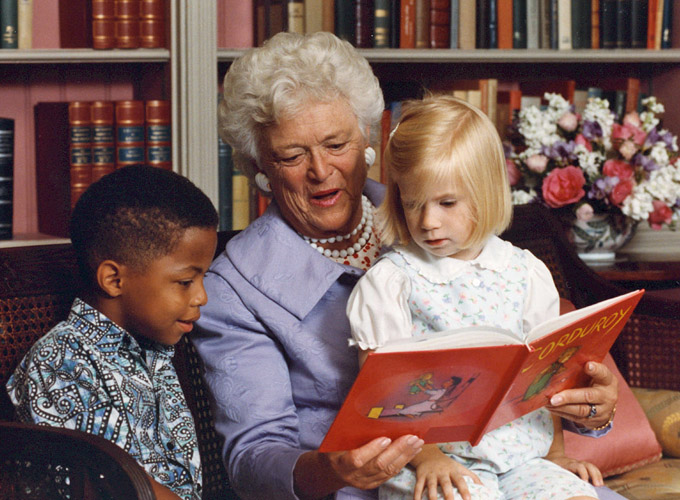 Barbara has called herself "everyone's grandma." She was known for her practicality, especially when compared to the previous first lady, Nancy Reagan. Barbara would make fun of herself, in addition to being outspoken. She once stated that she did not feel the need to help the Bush Presidency by dyeing her hair or choosing a different style of clothing.
Barbara Bush had been a lifelong volunteer, from raising money for the United Negro College Fund to volunteering in nursing homes. Motivated by her son's dyslexia, Barbara dedicated her life to combating illiteracy (the inability to read or write) in children and adults. In her eight-year run as First Lady, she attended around 500 literacy events. In addition, she started her own foundation, the Barbara Bush Foundation for Family Literacy.
She wrote two books about their family dogs, and donated profits from the book to literacy organizations, raising almost one million dollars. In 1998, Barbara stated that she hoped to be known as someone who fought to combat illiteracy. Her work certainly speaks for itself. Barbara Bush will be remembered as a smart, graceful and tough woman who spoke her mind and was true to her values. 
Sources: NY Times, NBC, ABC, Reuters, BusinessInsider, Biography