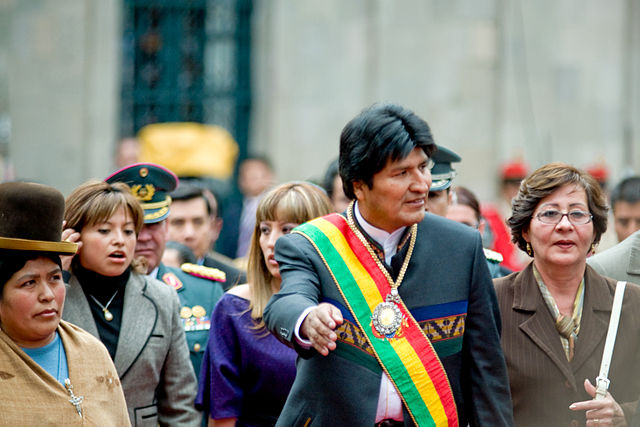 Evo Morales had been celebrated as the first indigenous president of Bolivia, a landlocked country in South America. 
However, after 14 years in power, Morales was forced to flee his country and has sought asylum in Mexico.
After a controversial election in October, massive protests broke out in Bolivia over the results of the election. The Organization of American States (an organization that includes all countries in the Americas) found that the election had been manipulated. As a result, on November 10, Evo Morales, the president of Bolivia, resigned his presidency. 
We look at the rise and fall of a leader and what's next for Bolivia. 
Rise To Power
Evo Morales was born to a family of llama herders belonging to the Aymara indigenous group. Indigenous people make up 20% of Bolivia's population and live in the Andes mountain regions. 
Morales was a coca farmer; coca is a plant whose leaves are used to produce cocaine. When the U.S tried to put pressure on Bolivia to stop the farming of coca in the 1980s, Morales organized and led fellow farmers in protest. Coca had always been important to indigenous people of the Andes for religious purposes, as a cure for altitude sickness, and as a stimulant.
Evo Morales climbed up the ranks and in 2005, won the presidency of Bolivia. As the first indigenous president, Morales worked to give rights and education to the indigenous people, who had faced discrimination from Bolivians of mixed or European descent. He redefined Bolivia as a plurinational country made up of several ethnic groups -- and changed the constitution and the flag to reflect the diversity. 
He nationalized the oil and gas industry, moving it from private to government control. His administration undertook several social programs and public works projects to address poverty, as Bolivia is considered one of the poorest countries in South America. Under his leadership, extreme poverty dropped from 38% in 2006 to 17% in 2016. 
An Uncertain Future
Due to his overwhelming popularity with the indigenous people, he was reelected in 2009, and again in 2014 after a change to the constitution.
However, Morales wanted to continue in power. Even though the people rejected the idea of a fourth term, Evo Morales appealed to the Constitutional Court and got himself on the ballot for October 2019 elections. When Morales lost support from the military and his own party members after a disputed election and protests, he announced his resignation.
Jeanine Añez, a senator, has assumed power as acting president until elections in January. Unfortunately, the manner in which Añez grabbed power and has been replacing people in top positions is raising eyebrows. Protests have worsened, leading to clashes between police and protestors as indigenous people view this as a takeover by white Bolivians.
Meanwhile, supporters of Morales are demanding the return of the former president. It remains to be seen whether a country that had made huge strides in the past decade might be set back again. 
Sources: Guardian, BBC, NYTimes, Britannica