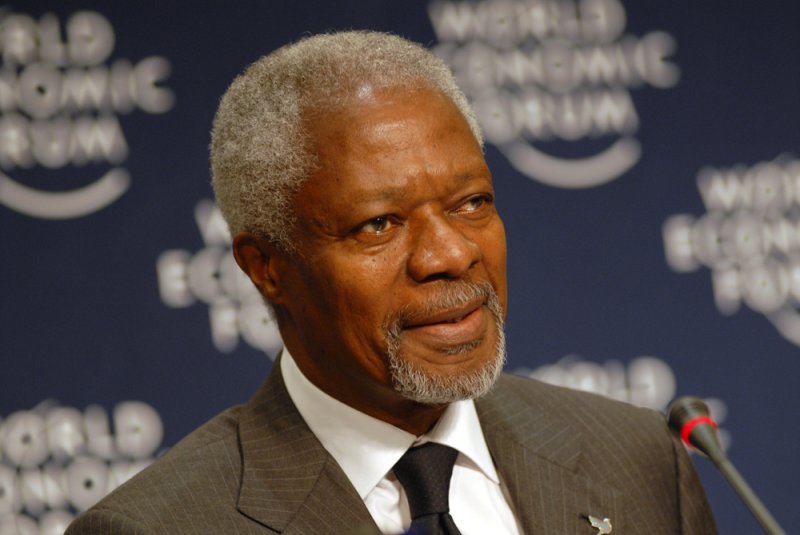 Kofi Annan passed away on August 18th in Switzerland at age 80 after a short illness.   
Not only was he the Secretary-General of the United Nations (UN) from 1997 to 2006 and winner of the 2001 Nobel Peace Prize, he was also the first black African and the first UN employee to be selected to this position. 
On September 13, he was laid to rest in his native country of Ghana in Africa. In paying tribute to Annan, many world leaders cited his integrity and humility while advocating for human rights and international peace and security.
Rise to UN Secretary-General
Annan first started working with the UN in 1962 at the World Health Organization in Geneva as an administrative and budget officer. 
However, he resigned the position to return to work in Ghana and Ethiopia for a short time, as well as earn a Master's degree at MIT Sloan School of Management in the United States. After his return to the UN, he worked in administrative roles in Geneva and then later New York.
In the early 1990's, Annan was appointed as head of the UN peacekeeping operations. During his tenure, the size and scope of UN peacekeeping grew to almost 70,000 civilian and military personnel from 77 countries. However, his tenure was also marked by failures, notably the Rwanda and Bosnia genocides in 1994 and 1995. Annan's critics say that he failed to prevent the genocides by being too cautious as well as not providing sufficient UN troops to the affected areas. In Rwanda, almost 800,000 people were massacred over a few months and 2 million refugees fled to neighboring countries. In Bosnia, almost 8,000 men and boys in the town of Srebrenica were killed despite being a UN "safe area".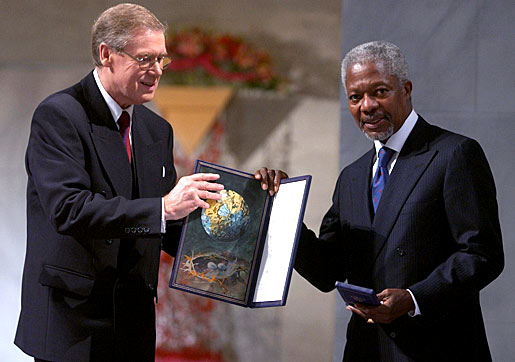 In late 1995, though, Annan was instrumental in ending the war in Bosnia by approving a NATO bombing campaign. This forced Serbia to the negotiating table, resulting in the signing of the Dayton peace accord.  His actions resulted in the United States lobbying successfully for his selection as Secretary General of the UN in 1996.
Initiatives at the UN
Annan's first major initiative as Secretary-General was to revitalize the UN by improving coordination and efficiency. He strongly advocated for human rights, helping to establish the UN Human Rights Council as well as convincing companies to accept responsibility for environmental, social and human rights consequences of their corporate activities. 
He was instrumental in the UN adopting eight Millenium Development Goals in 2000, ranging from eradicating extreme poverty to promoting gender equality. As a result, Annan and the UN were co-recipients of the Nobel Peace Prize in 2001 for "their work for a better organized and peaceful world."
At the end of his second term as Secretary-General, Annan retired from the UN. However, he continued his work on improving global governance, human rights and international peace through his Kofi Annan Foundation.
Sources: BBC, NYTimes, Nobelprize.org, UN