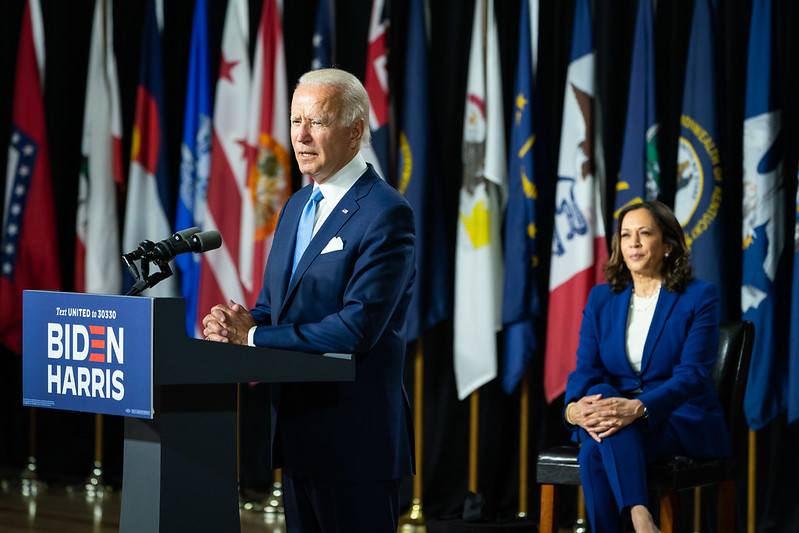 The people have spoken. Joe Biden will be the 46th President of the United States and Senator Kamala Harris is making history as the first woman Vice President. 
After a close race that hinged on four U.S states, the results were announced on Saturday morning. People streamed into the streets in Philadelphia, Chicago, Washington DC, and in cities across the country to celebrate. Cars blared horns, people marched with their masks on, waving flags, singing, and dancing.
On Saturday night, President-elect Joe Biden and Vice President-elect Kamala Harris addressed the nation from Wilmington, Delaware. Harris thanked Biden for his "audacity" in choosing a woman as his running mate and recognized the many women on whose shoulders she stands today, including her mother. She also spoke about how every girl should dream big because anything is possible.
Joe Biden addressed the nation, saying that even though he ran as a Democrat, he would govern as a President of the United States. He urged people to put their divisions behind, and "to lower the temperature, and to see and listen to each other." He pledged to work for those who voted for him and those who did not, saying he understands how everyone is hurting from the pandemic and the economy. 
Let's look at how Biden won the presidency.
The World Watches As The U.S Counts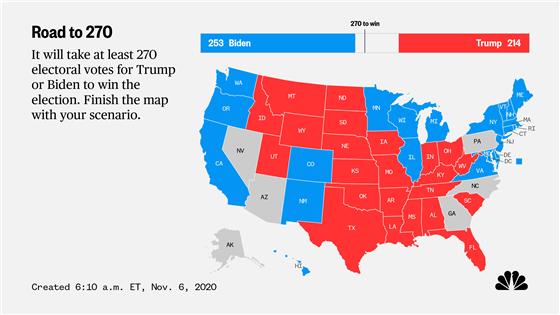 The U.S elections, as we had explained here, are not about who wins the popular vote, but rather who wins the electoral college. As expected, President Trump had an early lead in many states by election night. But as the millions of mail-in ballots were counted, his lead started to diminish (read why here). 
For three days, the country watched anxiously as poll workers in Arizona (AZ), Nevada (NV), Pennsylvania (PA), and Georgia (GA) counted votes. The process was fair with both Republican and Democratic watchers overseeing the count. 
To win the electoral college and its 538 electors, a candidate has to get 270 electors. As the mail-in ballots were counted, Biden started catching up to Trump in Pennsylvania and Georgia and by Friday had overtaken Trump. Finally, with enough of a margin by Saturday morning in Pennsylvania, the state awarded its 20 electors to Joe Biden pushing him over 270 to win the presidency. 
Who Is Joe Biden?
The road to the presidency has been a long one for Joe Biden. He was born in Scranton, Pennsylvania to a middle-class family and was the oldest of four children. When his father fell on hard times, the family moved to Delaware.
A young Joe struggled with stuttering and was bullied at school. But his mother would not allow stuttering to define her son and would make him recite poetry in front of a mirror.
While studying law at Syracuse University, Biden met his first wife, Neilia and they had three children. However, tragedy struck when in 1972, Neilia and the children were in a car that was struck by a tractor-trailer. His wife and youngest daughter passed away, while the two boys escaped but were hospitalized. Meanwhile, Biden had just been elected as a senator.
Despite the massive tragedy, he cared for his young sons, traveling each day from Delaware to Washington DC to work. He married Jill Biden in 1977 and they welcomed a daughter four years later. He faced loss once again in 2015 with the passing of his older son Beau from brain cancer.
Biden has tried running for the presidency twice -- in 1988 and 2008, before becoming the Vice President to Barack Obama. It appears that third time is the lucky charm for Joe Biden, who will be inaugurated on January 20, 2021, as the nation's 46th President. To learn about Kamala Harris and her historic rise, read our earlier article here.