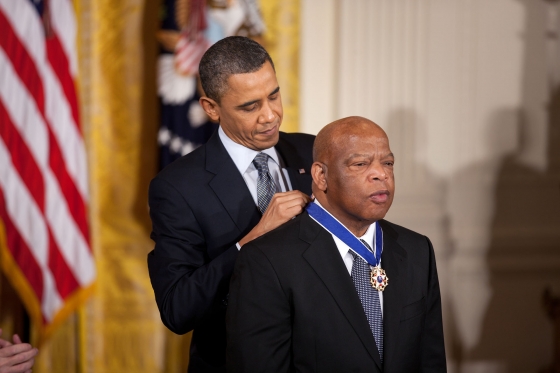 Freedom Rider. Civil Rights legend. Suffrage activist. "Good Trouble" champion. 
John Lewis spent his life fighting against injustice, up until his death on July 17.
On Sunday, July 26, 2020, his casket was carried across the Edmund Pettus Bridge one last time, as scores arrived to mourn, pay respects, and celebrate his life. 
Just 55 years earlier, John Lewis was violently injured on the same Edmund Pettus Bridge on what became known as "Bloody Sunday." As a member of the Student Nonviolent Coordinating Committee (SNCC), he had participated in the peaceful march to Montgomery, Alabama, championing the suffrage rights of African Americans. The march quickly turned violent and Lewis sustained grave injuries, including a cracked skull. 
Let's take a look at the early life of this civil rights pioneer and the tremendous legacy he leaves behind.
His Early Life
Born on February 21, 1940, to sharecroppers near Troy, Alabama, Lewis attended segregated schools during his formative years. Throughout his youth, he listened to Rev. Martin Luther King Jr's speeches over the radio and became inspired to carry out the fight for racial equality. 
In 1961, while studying at Fisk University, Lewis organized demonstrations against discrimination. He joined the Freedom Riders to draw attention to segregated transportation in the deep South. During those rides, he was assaulted several times, beaten, spat on, and burned with cigarettes. As he later recalled, the wounds he suffered were reminiscent of the injustices African Americans have faced for several centuries.
Following this, Lewis continued to defend civil liberties for African Americans. The events on "Bloody Sunday" led President Johnson to sign the Civil Rights Act. This granted African Americans voting rights and ending bus segregation.
In November 1986, Lewis was elected to Georgia's Fifth Congressional District. As a 17-term congressman, he supported the passing of several bills for racial equality, human rights, and public health. 
His Teachings
Throughout his life, Lewis encouraged people to "get into good trouble"— that sometimes it is necessary to get into trouble to reform society. For example, following the death of George Floyd in police custody, Lewis applauded the nationwide demonstrations against police brutality.
Despite facing violence at nearly every turn of his life, he never wavered from promoting peace. John Lewis was also commemorated for his preachings on forgiveness and encouraging his constituents to not turn a blind eye to wrongdoing. He was awarded the Presidential Medal of Freedom and the Kennedy Profile In Courage Award.
In appreciation of his achievements, President Trump, Speaker of the House Nancy Pelosi, and Former President Barack Obama offered their condolences to the family of John Lewis. The President ordered flags at the White House to be lowered, and Pelosi praised Lewis as an American hero.
John Lewis was the moral conscience of America and will forever be remembered for his compassion and sacrifice as he fought for civil rights for all. 
Sources: NY Times, House.gov, Congress.gov, The Atlantic, NPR, Politico, USA Today, CNN, Britannica, Stanford