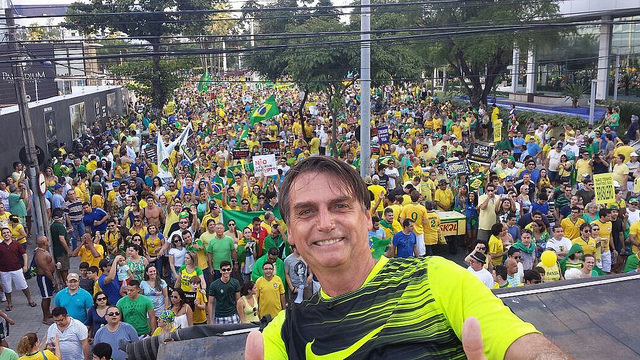 He has been called "Trump of the Tropics." The rise of Jair Bolsonaro in Brazil to win the presidency is similar to that of Donald Trump in the U.S.
A former army officer, Bolsonaro did not have a strategy or vision for his country. However, he knew how to appeal to Brazilians who were disillusioned after years of political, economic and social crises. On October 28, Brazil held its elections and Bolsonaro cruised to victory with 55% of votes. 
A Remarkable Rise
Jair Bolsonaro was born in a town in São Paulo, in the southeastern region of Brazil. He studied at a military academy and joined the army where he rose through the ranks to become a captain.
In 1986, Bolsonaro published an article complaining about the low salary paid to army officers. While his superiors condemned him for violating army ethics and even briefly imprisoned him, Bolsonaro soon became a hero in the public's eye. He ran for the city council, and then for a seat in the Congress.
Bolsonaro served in Brazil's congress during periods of economic crisis. He was known for his sharp tongue and inflammatory speech. Despite statements that he is in favor of dictatorship and hateful remarks against women, black people, gay people, native people and foreigners in his country, his popularity continued to rise. In September of this year -- just two months before the elections, Bolsonaro was stabbed with a knife at a political rally and had to undergo surgeries. That did not deter Bolsonaro, who used the attack to garner sympathy from voters. 
Crisis in Brazil
There is a reason why Bolsonaro appealed to his country's citizens. Brazil's economy has been in a recession since 2014 and more than 12% of its citizens are unemployed. Crime and violence are at an all-time high.
In this midst, Brazil faced one of the biggest corruption scandals to rock the nation. Petrobras, the state-controlled oil company, was at the center of the controversy that broke out in 2014. Officials in Petrobras were involved in money laundering (moving money illegally) and bribery to award contracts. Not surprisingly, the investigation pointed fingers at many senior executives and politicians. 
Brazilians had had enough of the Workers Party which had been in power for 13 years. By positioning himself as an outsider, Bolsonaro increased his popularity among the people. He has promised to clean corruption in the country. To combat violence, Bolsonaro has proposed that police could exercise harsher actions, such as shooting a gun, more frequently. He has also suggested removing protection for the Amazon rainforest and the indigenous people living there, opening up the region to mining.  
Bolsonaro's win is of concern to political analysts and environmentalists who will be closely watching what he does after he takes office on January 1. 
Sources: Time, Aljazeera, Vox, Guardian, Washington Post