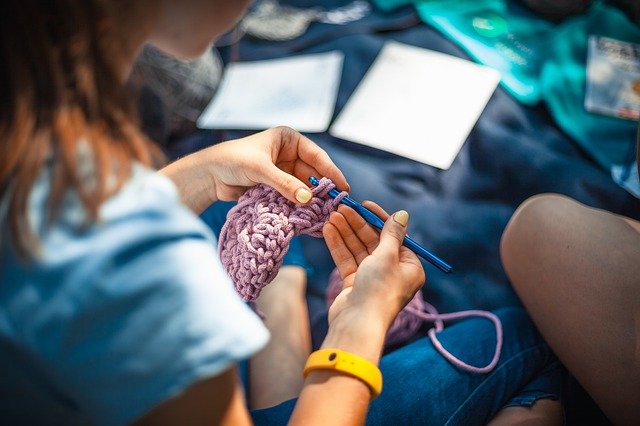 When I was nine, I loved to play with my niece, Brielle, who lived downstairs. One day, our families suddenly had to stay separated. We could only wave through the window. Why?! It was the year 2020, and the lock-down for the Covid-19 pandemic had begun.
My grandpa was lonely without visitors on his birthday. My uncles lined up their cars with ours, and we drove by his house. "Beep-beep-beep!" My cousins and I hung out of the moon roofs and shouted and sang happy birthday. How happy my grandpa was!
My birthday passed quietly. There were no parties that year. But after many months, I was finally able to have an outdoor craft table with my friends. It was chilly but lots of fun! For Brielle's, we set gifts in the middle of the driveway and sat down ten feet away to watch her open them.
One day, my mom came upstairs looking worried. "I can see the bottom of the freezer; what will we eat? Dad is unemployed, and we don't want to go to the stores and get grandma sick!" Worry surged our minds as we struggled to find food. Mysteriously, bags of groceries appeared on the porch. We were so happy to have food at last!
For months, our church closed. We listened from home. Imagine sitting on the couch with wiggling siblings and barking dogs around you, listening to the minister preach!
My grandmother had Alzheimer's and had to be taken to the hospital several times. Sadly, we couldn't see her; no visitors were allowed to enter the hospital. We couldn't make her feel better by visiting her, and she was scared.
I had a brother in the military overseas; he was homesick, but visiting across borders was not allowed. His wedding fell through; his fiance flew out to him, and they drove to the Netherlands to be married. We watched it over live-stream, far away! My bridesmaid dress hung in the closet, unused.
Are you wondering how we learned our school lessons? We stayed home and did the work on our own. My brother was finished at ten in the morning; I was quite aggravated by that, watching him play the rest of the day while I had to work. At the end of the year, I heard that my teacher had cancer. One day my mom told me that I would never see my teacher again because she had died. I was so sad.
The next school year we could go to school, except we had to wear masks and stay six feet apart. "Ugh! Not this stuffy mask again!" I often thought. Many times our school had to close because a student had Covid-19.
Covid taught us good things too. We learned about getting along, spending family time, valuing health, and working together. I wrote to the lonely elderly to cheer them up. We learned so much from the pandemic, and it will never be forgotten.