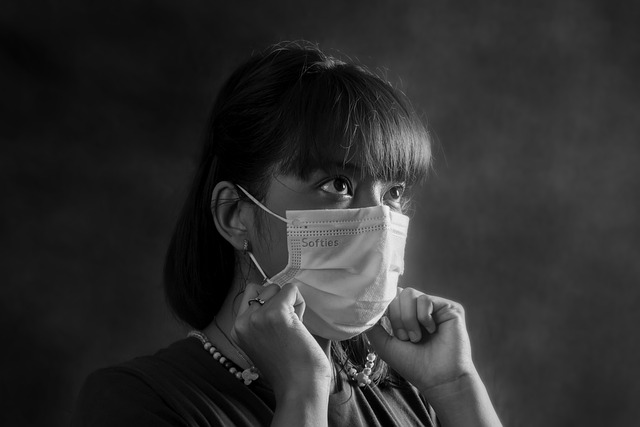 Image credit Pixabay/CC
Lessons From Behind The Mask
by Leia Lin, 11
When I was around your age fifty years ago, my life changed forever. A terrible virus called COVID-19 affected the world and specifically me. It started in China and spread throughout the world. The virus was highly contagious and deadly. We were fearful. Schools and shops closed, and everything shut down. People were scared to be around other people and because of that fear, the world just seemed to fall apart. There was extreme panic. We had to wear uncomfortable masks to keep us and our family members safe. People hoarded food and toilet paper because they thought that the stores would close, and they did not want to run out.
I noticed people, including the President of the United States, calling the virus "China Virus" or "Kung Flu" on the news or social media. Those words fueled racism against Asian Americans, which I had personally never experienced. Many people were influenced to believe that Asians had COVID and should be avoided.
One day, before everything shut down, two boys walked up to me at a park with sneering faces and asked me if I had COVID. I was shocked and didn't know how to answer. I could not help but wonder, "Were they asking me this because of how I looked and the color of my skin?" Later at home, I took a long look at myself in the mirror. I suddenly did not feel proud of who I was anymore. I felt hurt and even a little ashamed. But I was also grateful for the shutdown. If I was at home, around only my family, no one could judge me. I felt like the only way for me to feel safe was to not be around anyone at all.
The shutdown lasted for five months, giving me some time to think about my feelings. During that time, my family baked, did experiments, and read books, but even all that fun didn't help erase my worries. When I heard that school was reopening, I was terrified. "Would the other kids judge me and think I have COVID?" While my mask would hide my face, it did not do so completely. I had no choice but to be brave and face my fear.  
Surprisingly, no one treated me differently when I returned to school. Everyone was thrilled to see each other, including me. It felt so good to be learning again in person with my friends. My doubts eventually evaporated. Who cared what those boys thought? I am proud of who I am and what I look like! Everyone should! There will always be people out there who make hurtful comments, but they can't affect you unless you let them. Do not ever forget that and I hope, my dear grandchildren, that you will always do what I did. Be strong and be proud of who you are and where you come from. ​