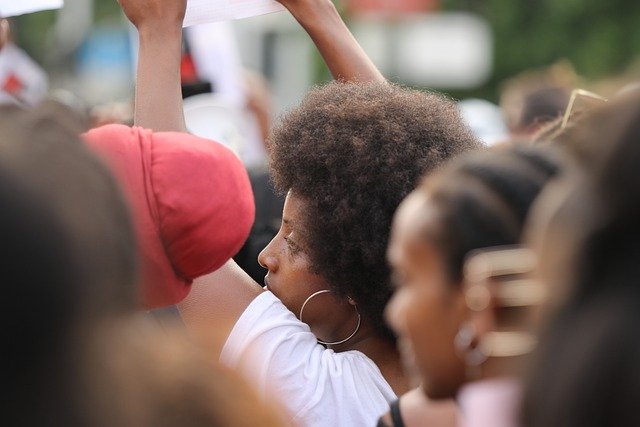 Image credit Pixabay/CC
Father's Day In The Year Of The Pandemic 
by Karuna Lohmann, 13
Sunday, 6/21/2020, is the day I remember best during the COVID-19 pandemic. I was twelve years old, standing with my parents in a park, my shoes tapping out a rapid beat. I was holding my speech in my hands, rereading it to pass time. The breeze whooshed and the pages fluttered like a butterfly flapping its wings, trying to fly. I remember playing with my mask while waiting for people to arrive.
Soon a small group formed a circle around me. I thanked everyone for coming. Yet at the same time, a small bit of me wished nobody had come, so I wouldn't have had to speak in front of everyone.
I knew I was being silly because I was shy. Deep inside, I was glad people were there because I'd spent lots of time organizing the gathering.
First, I'd called my Aunt Val, who's Black, to see if she thought it was my place to organize a gathering in support of Black Lives Matter, because I'm Brown, not Black. Then I called my town's parks and recreation department, acquired a "permit" and emailed invitations to people I knew.
Many couldn't come because it was Father's Day. I was annoyed I hadn't realized that. But when I thought about it, I understood how meaningful this coincidence was, because, due to police brutality, countless Black men couldn't become fathers, and countless children of color would never see their fathers again.
The crowd had grown. I willed the butterflies in my stomach to fly away without taking my voice with them. I finally started speaking, reminding everyone to social distance, and talked about why I'd organized this and what it meant. Then I talked about the murder of people of color.
Before the gathering I'd told my mom I was scared I'd cry. She'd hugged me. "If you do, you shouldn't be ashamed. It would send an important message by showing that you truly mean what you're saying."
I cried openly. But I kept talking. Then, those who could, kneeled for 8 minutes and 46 seconds. Because that's how long the police officer kneeled on Mr. George Floyd to kill him. 8 minutes and 46 seconds.
Lastly, I asked if anyone else wanted to speak or sing. Then we were done.
That gathering was important to me because I learned about the importance of speaking up and it made me understand my privilege more deeply. I'd known earlier that police brutality occurred, and even though my mom had told me about a tense encounter she'd had with a cop, I hadn't thought about it much. Until the quarantine.
Police brutality towards BIPOC, especially Black people, and even unarmed Black children younger than me, was the most important thing I learned about during the lockdown. And my most important experience was not the worry, uncertainty, school confusion, or uncomfortable masks; it was the day I organized that Black Lives Matter gathering, those many years ago.