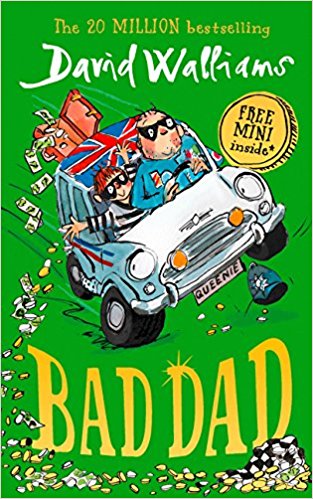 Bad Dad by bestselling author David Walliams is one book I read all the way through without stopping.
It is a hilarious fictional story about a kid named Frank trying to save his troubled dad in London. Frank, an honest boy, catches his beloved race car champion dad doing something terribly wrong after becoming broke from bills due to a big accident.
One main reason I loved the book was that the plot was wild and unpredictable. Also, I enjoyed the sound effects and onomatopoeia throughout the story. Because of that, it would be a perfect read-aloud book, or you could listen to David Walliams read it on audio.
The characters and their illustrations were hysterical. The author cleverly tied up all the loose ends and created a satisfying ending.
However, no one is perfect--even in his bestselling book! It was kind of hard to believe that a young Frank could drive a car.
Other parts of the plot might be a bit over the top for readers that do not like extreme or ridiculous ideas. For example, the sound effects are splashed all over the pages in different sizes and fonts.
I highly recommend this fun book to 4th to 7th graders that like to laugh and love pictures. Even though it is 422 pages long, it feels like 200 pages because of all the amusing illustrations. Find out why Walliams earned so many writing awards and THIS is his top seller!