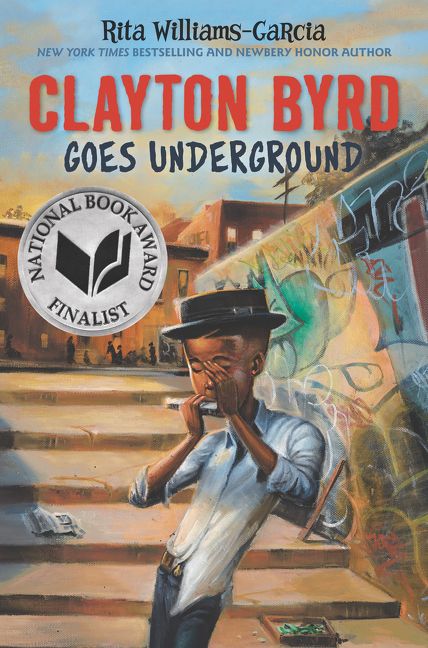 In Clayton Byrd Goes Underground by Newbery Honor author Rita Williams-Garcia, Clayton, a young African-American blues player, goes through many difficulties and life changes.
Clayton's family is a crazy clan. His mother hates blues, his father only visits one weekend a month, and Clayton loves his grandpa (Cool Papa Byrd) the most. Every night Cool Papa secretly takes him to a subway Washington Square Park to play blues music. Clayton plays the blues harp with this adult crew and becomes quite good at it. Cool Papa's band of players perform blues for huge audiences.
One morning, Clayton wakes up to find Cool Papa Byrd dead in his old wooden rocking chair! At the funeral, the blues players offer to play blues but Clayton's mom firmly insists no blues are allowed. When Clayton finally returns home he feels angry. A few days later, his mother sells all of Cool Papa's valuables, including his precious record album for a few dollars. Clayton becomes so annoyed that he secretly takes some of the valuables for himself and hides them in his closet. Then, he tells everyone that nothing was on sale!     
A few days later, he runs away from home. He walks to the subway to travel to Washington Park to meet the Blues Gang. But then, he meets a gang of older children that illegally play music to earn money. As soon as they start playing music, Clayton takes out his harmonica and plays along.  By the time he arrives at Washington Square, the blues band is gone for two months. When Clayton enters the subway he meets the band he performed with earlier. He decides to start playing with them again, but they are all caught by the police and Clayton is arrested.
The Good And Bad
Later on, Clayton goes on to live a happy life that I won't spoil for you. I personally like this book because it describes all his crazy, mixed-up feelings and many disappointments kids can relate to.
Another part that I enjoyed is how well the author describes the emotional blues music throughout the book. The author added a lot of sound effects which made the story come alive. One aspect that I didn't care for was the ending resolution. The author made it so brief and sudden that the conclusion was not satisfying.
Should You Read It?
Nevertheless, I highly recommend this intense book for ten to thirteen-year-olds and anyone who loves music. Many readers can connect with the book because it is an inspirational story about a kid getting the blues and his struggles to overcome his simmering anger. It made me think about how infuriated one can get and how poorly they can express it.
If you enjoy this book, you should check out Williams-Garcia's 2010 historical novel, One Crazy Summer, which won a Newbery Honor Award and O'dell Historical Fiction Award!