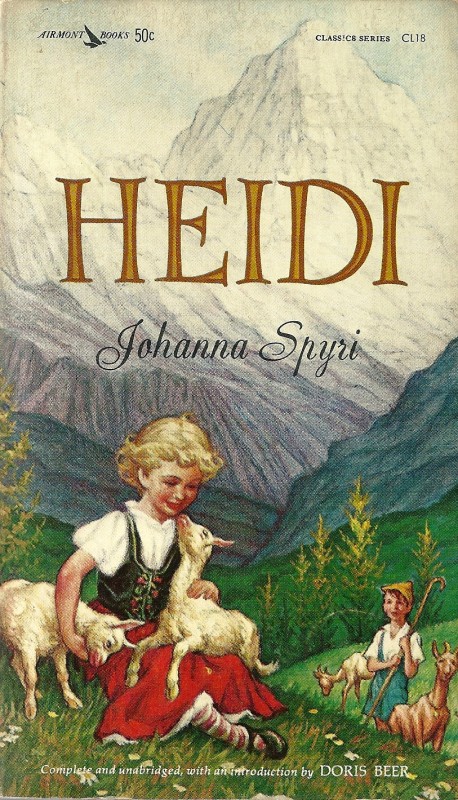 Heidi is a novel set in the Swiss Alps. A little five year old orphan is sent to live with her 'eccentric' uncle who lives up high in the Alps. He is considered eccentric and strange because he and the villagers did not agree about God in the same way, which made him look like he was a crazy man.
Miles away from the nearest town, Dörfil, Heidi was brought to Uncle Alp by her Aunt Dete. This uncle is nicknamed 'Uncle Alp' by the people of the village, who think he is a lunatic. They pity the child who has to go live with him, a girl named Heidi.
Once Heidi arrives, she finds that Uncle Alp is not a bad man, just a lonely one. She befriends the local shepherd boy, Peter, who takes care of the sheep on the mountain and in Dörfil. Whenever he came up to Uncle Alp's to gather his sheep for the day, Heidi would follow him, and she becomes a helper for him.
Three years later, her Aunt Dete comes again to bring Heidi to Frankfurt to be a lady's companion to a twelve year old girl who needs a playmate. This girl is named Clara Sesemann, and she is referred to as an invalid, as she is paralyzed from the waist down. Heidi and Clara become good friends, and they do everything together. Clara's grandmother comes to visit, and Heidi and her start to become extremely close.  Clara's grandmother teaches Heidi that God is always there to help her in time of misery.
Fraulein Rottenmier, the housekeeper, on the other hand, does not approve of a 'mountain girl' coming to live in a sophisticated household such as theirs. Heidi starts becoming extremely homesick. She begins to have hysteria, and she eventually is sent home, yet she misses her friend. 
Heidi talks to Uncle Alp, pleading to allow Clara to come up one summer. He gives in, and when Clara arrives, she's as weak as a daffodil. What happens? Read the book to find out.
Heidi is a book by Mrs. Johanna Spyri, which was written in 1881, and is a book based in Switzerland. Mrs. Spyri was a native Swiss, and she wrote this book in her homeland. Mrs. Spyri's Heidi was first written in German, than was translated into English and other languages. Heidi was first a two part book called Heidi: Her Years of Wandering and Learning, and Heidi: How She Used What She Learned. This book is age-appropriate for all ages, and it would be perfect for a rainy day when you would like to lay down and relax.