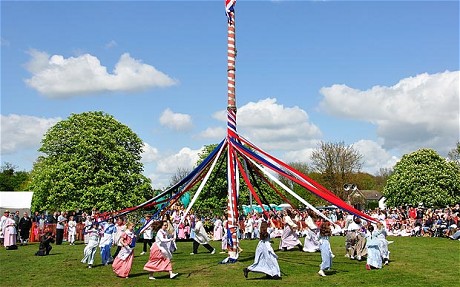 "Mayday! Mayday!" Did you know that when a plane is going to crash, pilots shout in their radios a distress call,"Mayday!"(m'aidez, or, "help me" in French)?
Well, that has nothing to do with the welcoming of spring celebration called May Day, which happens on May 1st every year. In fact, the ancient Celts were behind the origin of the holiday (called Beltane), which was supposed to celebrate the beginning of summer. May Day is also a way to honor the Roman goddess of flowers, Flora.
Currently, May Day is an international day of celebration for workers and laborers.
Different Cultures, Different Celebrations
Like many other holidays, many cultures or countries adapted it and changed it to a celebration of their own. May Day is celebrated mostly in Europe and North America, in countries such as England, Finland, Romania, Canada, America, Ireland, France, Germany, Portugal, Spain, Poland, Bulgaria, Italy, and more.
In each country, everyone celebrates May Day a bit differently. Hawaiians call May Day, "Lei Day"! As a fun tradition in America, sometimes a present is delivered to the door and the giver runs away as soon as he/she has rung the doorbell. In England, the festival involves crowning a May Queen and the maypole dance where they take ribbons and weave and frolic around a pole (such as a ship mast).
Wouldn't you like to go to an exciting May Day festival? Festivities include activities such as performing the Maypole dance, eating yummy cakes, playing outdoor games, happily singing, crowning a May Queen, wearing flower crowns (if female), and many more.
While the northern hemisphere prepares for May Day, the southern hemisphere gets ready for winter. Instead of celebrating May Day, they celebrate International Workers' Day, also known as Labor Day since 1880.
Next time you hear someone yell, "May Day!" you know that it is probably an excited festival attendee. No rescue needed!
POEM by Grace 
Hurray! Hurray!
On 1st of May,
also known as Lei Day
We dance around and adorn,
around a maypole I adore
A day with festivities,
of flowers and beauties
All on the 1st of May,
sounds like fun, I'd say
Hurray! Hurray!