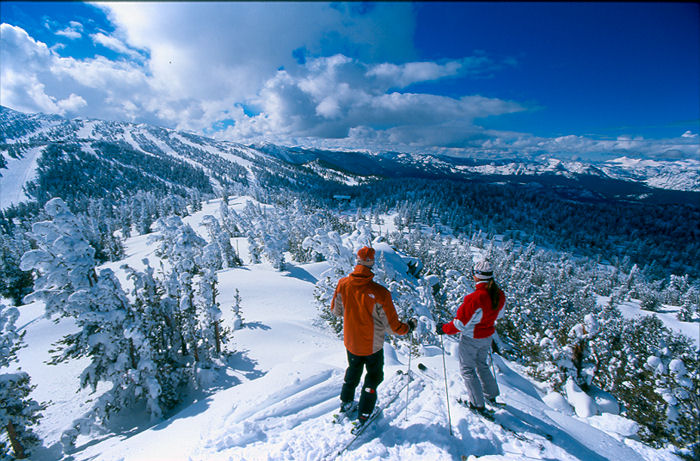 The first thing you should do is to bring at least three layers of jackets because if you don't, your body will feel like an icicle!
Second, you wouldn't want to ride the chairlift until you think you are ready because if you want to challenge yourself, you better prepare to be scared because you will either butt ski, or you will cross your skis. Butt skiing is when you fall down on your bottom and you ski while sitting on your rear. You may even encounter a tree like I did on a black diamond run, and it's NOT PRETTY!
The third tip is that you need to go skiing or snowboarding for at least a day. If you don't, your trip to Tahoe will be a waste. Otherwise, only other baby stuff. Sledding! Snowball fights! Tubing! Would you want to do these on all your days at Tahoe? Likely not.
The fourth recommendation is that you have to visit Tahoe for three days. If you don't, what's the point? You may have to drive three hours and all you get is a day of skiing and a day of playing snow? Waste of time and money, not worth it. But if you stay three days (two nights) then at least you will enjoy two days of skiing and a day of playing in the snow.
The fifth suggestion is that you should try Oceana or Ishiban. You should stay hydrated by bringing lots of water.
The Don'ts
The first thing not to do is to drive on the highway when it's snowing. The highway has endless traffic, and everyone will get annoyed.
My second tip is when you're booking hotels, don't stay at a casino because you will be tortured by the smell of second-hand smoke and be tormented by the gamblers ridiculously chaotic noises.
My third recommendation is that you shouldn't go to Boreal and visit Tahoe Donner instead because Boreal seems three times more crowded. The chairlift in Boreal takes ten minutes, but Donner's lift waits are only a minute or two.
My fourth proposal would be to avoid ski resort foods as much as possible. Last time I tried a ski resort's fish and chips, and the fish and chips tasted like cement. To prevent them as much as possible, you should buy some snacks at the Reno Costco, or some other supermarket near your hotel.
My last warning is to be careful when you ski down by yourself. Even though you know how to ski, you still have to be cautious. Don't rush when you're skiing blue, black, or double black runs. Most likely, you will fall down, get injured, or maybe even die. Millions of people get injured every year when skiing or snowboarding. 
Tahoe is a spectacular region, if you listen to my tips, you will experience an excellent holiday at Tahoe. But if you don't follow my tips, well, you've been warned!