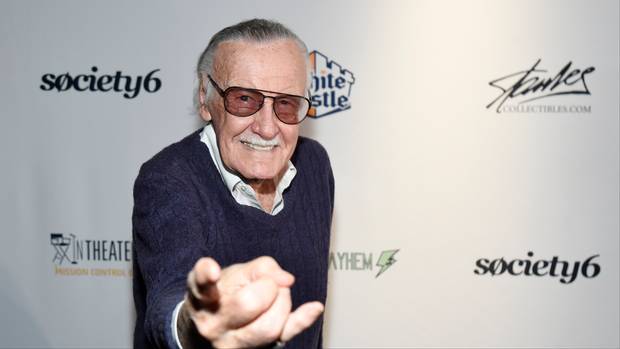 Did you ever wonder how Spider-Man and the Hulk were born? Who created these maniacal Marvel characters? It was none other than the brilliant Stan Lee!
A Poor Beginning
Stanley Lieber was born in 1922 in New York City. His Romanian parents came to America seeking a better life. Unfortunately, Stanley parents were poor and, during the Great Depression, they lost their jobs.
When Stanley was nine, his younger brother Larry was born. Stanley was smart and skipped a few grades so he could begin working multiple jobs to make money for his growing family.
Comic Career
Since he was young, Stanley had been a great writer and reader. He won so many writing contests  that people told him to stop entering! When Stanley was 16, he graduated from high school and took up a job at his cousin's husband's place, Timely Comics. He worked for Joe Simon and Jack Kirby. Timely Comics competed with DC Comics. At the time, the Timely Comics Heroes were much less popular than DC superheroes.
Later, Kirby and Simon created Captain America after hearing about what happened in World War II, and it was a success! Soon after, Simon let Stanley write another story. Then Stanley changed his name to Stan Lee and eventually became Timely's editor.
Stan decided that he should join World War II and was given the job of writing slogans, manuals, and training films. Even during wartime, he wrote stories for Timely. After World War II, Stan returned and married Joan in 1947.
Professional Highs & Lows
Parents began protesting that comics weren't a good influence on kids and held comic-burnings. In 1954, 15 comic companies went out of business! Then, the Comics Code Authority was created to ensure that comics were nonviolent. If approved, there would be a seal indicating it was safe for children.
After 20 years working on comic books, Stan wasn't having fun anymore. He was just about to quit when the publisher offered him to create the Justice League of America. The team included superheroes like Superman, Wonder Woman, Flash, Green Lantern, Aquaman, and  Martian Manhunter. Soon, Stan created the Fantastic Four that was published.
The Hulk appeared in 1962 and X-men would be his next hit. Larry helped him create Thor and Iron Man. Now Stan was on a roll, he couldn't stop thinking about new characters like Ant-Man and Daredevil. The publisher decided to change the company's name to Atlas Comics, then to Marvel. Next came Peter Parker, a.k.a. Spider-Man. The person who designed all this  was Steve Ditko. All Stan's new comics were a hit!
In 1972, Mr. Goodman retired and Stan was promoted to publisher. Excited, Stan wanted Marvel characters to be on TV and movies. In 1978, Superman came out. The movie was such a hit that Stan bought a house in Hollywood.
Then, bad things happened between 1989-1996. Marvel Films were made, but never released. Marvel went bankrupt because the new owners tried to make Marvel too popular, too fast. Fortunately, a new department was created: Marvel Studios. From 1998-2013 everything became a success!
Later, when Stan could retire, he still kept working! And in 2001, DC Comics asked Stan to write a story with their superheroes. He is now 95 years old and has many new plans for his famous characters. We can't wait!