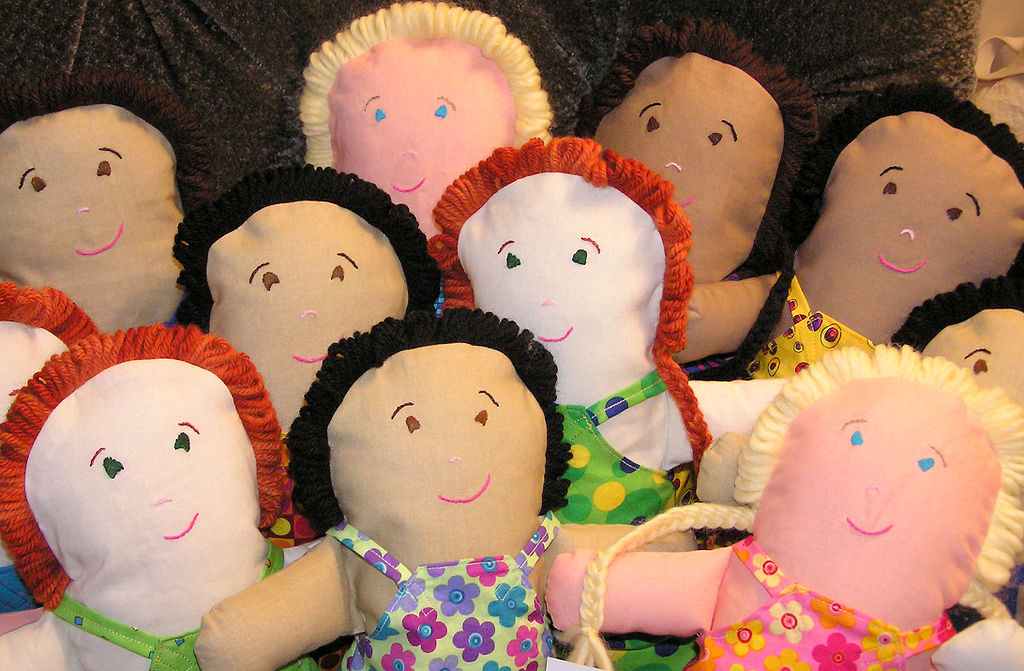 I stared from the top of the shelf, looking down at the heads of children … girls, boys, and parents searching for the right present.
Many children noticed me but turned away. I guess a doll that had button eyes and brown yarn hair wearing a purple dress and yellow leggings…  is creepy. Suddenly out of the corner of my eye, I spotted a girl staring at me.
"Sarah, you want to buy that doll?" asked her mother joining her at my shelf.
"Yes, I want to buy this very doll," cried Sarah grabbing me and holding me tight. Will I be home at last?
From the very first day, Sarah took such good care of me; she dressed me, fed me, read me bedtime stories, gave me "showers", and slept with me.
However, this all changed when Christmas arrived. Sarah got new toys like doll houses, stuffed bears, and small trinkets. As she was about to finish opening presents, Sarah's cousin exclaimed, "Wait!! One more present," while holding up a long thin box in Christmas wrapping paper. Sarah grabbed the present and tore open the wrapping paper, and inside was a Barbie doll. Sarah took the doll out and hugged it like I wasn't even there.
The following day Sarah's mother asked Sarah, "Don't you think you're a bit old for this doll," Sarah's mother commented, pointing at me.
"I guess I am," Sarah softly whimpered holding me.
"You should donate her to the second-hand store."
"Good idea."  Later Sarah's mom took me to the Goodwill Store and left me without a home.
***********
One morning, 25 years later, a woman and her daughter came to buy an inexpensive doll. The women looked familiar, she looked like … Sarah! What, Sarah's here?!
"Mommy, I want that doll. I  saw her in your old photos."
"Of course. I can't believe it ... could it be the recycled doll I used to have?!"
"Let's go buy her!"
Right now, I am at Sarah's parent's house sleeping in the bed I slept in years ago. The night before I had found out Sarah's daughter's name was Claire, and Claire had decided to call me Anabelle.
As time went on, Claire and I began to grow apart each day. She sleeps with me, but I still feel left out. I decided to hide myself in Claire's closet so that she would realize my importance. I waited a long time until finally, Claire came in for bed. She looked everywhere but must have given up because the lights turned on and I heard some rustling. 
Imagine my surprise when in the morning I woke up to feel Claire hugging me as she whispered through tears of joy, "I will never leave you again!" At last, I truly felt at home.