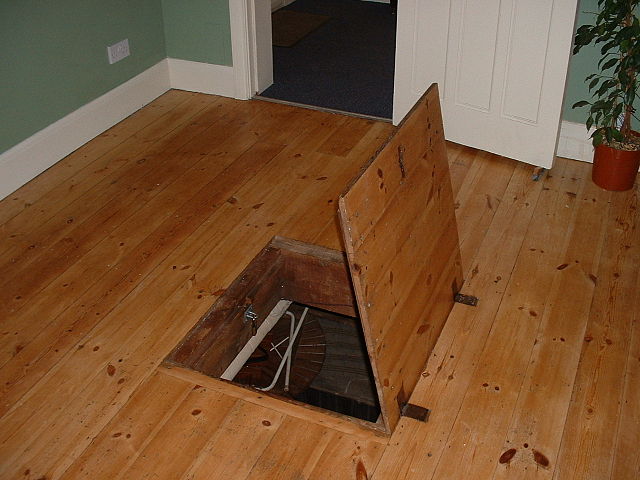 My name is Tracy Trapdoor. There are lots of doors in the world. Some are lucky and placed as openings to grand monuments like the Taj Mahal in India and the Capitol Building in the US.
But others like me, get placed at boring spots. It's even worse being a trapdoor because no one can find me. It's so boring.
My only friend is Sara Sofa who does not talk much. The moths beat her up good. When she was not taking rest, she would talk to me about the olden days and how new she was back then. Sara is 145 years old. Or was. She died. I can tell because all her leather is gone and two of her legs are broken. She didn't even have a funeral in the garbage truck. I'm only 70 years old. 
My thoughts were interrupted by a shout.
"Hey dad, can we roam around and try to find a hidden passage?" screamed a little boy. His name is Dean. He is 8 years old. "Yes we'll take a flashlight and the telephone just in case we get lost", he mimicked. I thought that he must be a bad kid! Suddenly I felt a large foot on one of my 4 eyes. "OW", I cried out.
After I yelled, I got worried. What if they heard me? They didn't though. Thank goodness. That night I fell asleep thinking how lucky I was to not be kicked and pushed around like all those other doors placed around fancy monuments. I never could understand humans too well though. At least I knew that I actually lived in the mansion of a brilliant scientist who died 40 years ago. I heard Fred's older sister talk about him. The Johnson's were a nice bunch! 
After this new family moved in, I realized that you don't have to be fancy to be special, you just have to be yourself. Everyone was unique and talented (even if you're a piece of furniture). I was proud to be none other than Tracy Trapdoor. I was special, unique, and different. It just mattered to me to be happy!