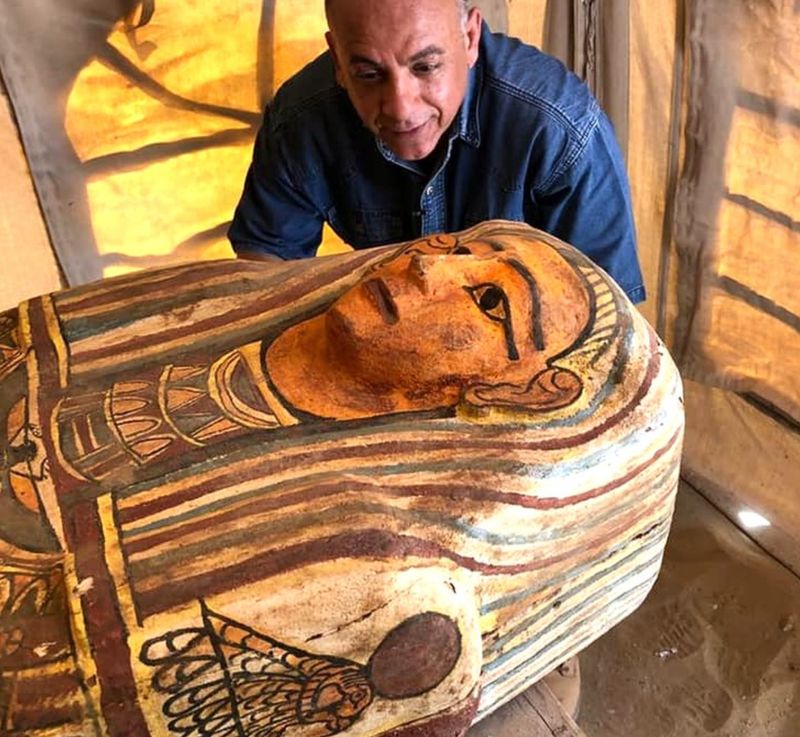 Archaeologists in Egypt have made a new discovery!
Thirty sarcophagi, or stone coffins, have been unearthed for the first time in around 2,500 years from the bottom of a 36 feet shaft (well). 
The tomb was found in Saqqara, the pyramid field of Memphis. Memphis was the first-ever capital of Egypt. Saqqara is designated as a UNESCO World Heritage site. The most famous landmark in Saqqara is the Step Pyramid, a pyramid with 6 steps. It is also the resting place for Djoser, the second king of the 3rd Dynasty.
During Egypt's Golden Age, we know that pyramids were built for pharaohs where they were buried after their death. However, powerful figures such as priests and other royals had extravagant tombs built for them as well. 
Despite the coffins being 2,500 years old, it is amazing to see the original coloration still preserved on the coffins. Khaled El-Enany, Egypt's Tourism and Antiquities Minister described the site as, "the largest number of coffins in one burial since the discovery of the Al-Asasif cachette." The Al-Asasif cachette was a discovery in 2019 where 30 coffins were unearthed. Along with the stone coffins, the archaeologists also found a pillar with depictions of Egyptian gods including, Isis, Nephthys, and Horus. 
Egyptian authorities recently cracked open one of the coffins in a live scene that was broadcast on social media!