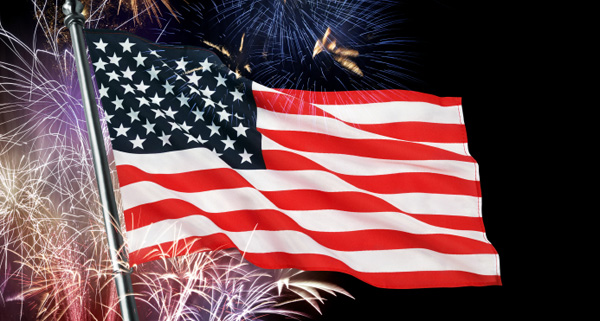 July 4 is Independence Day in the US - a day when the people of the nation gather together to celebrate the birth of an independent nation and proudly wave the American flag.
It was on July 4, 1776 that the Declaration of Independence was signed to mark the separation of the American Colonies from the British creating a new country.
One of the patriotic symbols of the United States is the American flag - affectionately referred to as red, white and blue. We all know that the thirteen stripes on the US flag stands for the thirteen colonies while the 50 stars stand for the 50 states.  But did you know how the symbols and color came to be?
Well, the stars and stripes are the result of a resolution adopted by the Marine Committee of the Second Continental Congress at Philadelphia on June 14, 1777. It was "Resolved, that the flag of the United States be thirteen stripes, alternate red and white; that the union be thirteen stars, white in a blue field representing a new constellation." However, the resolution did not give any indication on how many points the stars should have, or how the stars should be arranged on the blue. There was also no word about the significance of the choice of red, white and blue. Betsy Ross stitched the first official US flag.
It was much later that Charles Thomson explained the significance of the colors to the Continental Congress. He said "White signifies purity and innocence, Red hardiness and valor and Blue signifies vigilance, perseverance and justice".  While the colors have their significance, for many the US flag represents freedom - freedom of speech, freedom of press and freedom of religion.
Don't miss this article from our archives on July 4th, written by one of our young editors (click here)!