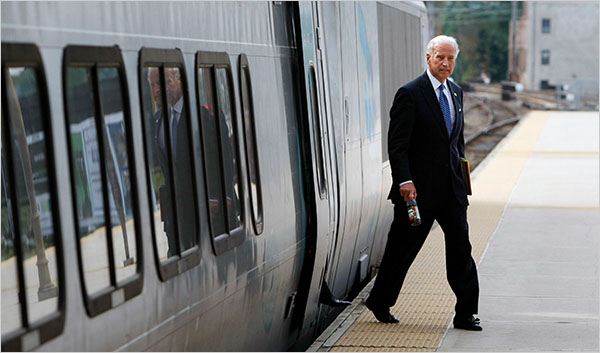 Guess what mode of transportation former U.S. Vice President took from his home in Delaware to his job in Washington DC as a senator? A limousine? Or perhaps a private jet?
Believe it or not, for 35 years, Joe Biden's choice of transportation has been the Amtrak train! However, this all ended when he became the Vice President of the U.S.
After the inauguration of President Donald Trump last Friday, Biden, his wife Jill and other political officials returned to their previous life, boarding the Amtrak at Washington Union Station. Biden's trademark charisma was present as he hugged workers at the station and spoke to reporters. He also spoke kindly of newly elected President Trump despite previous tension between the two.
It was a bittersweet moment as the former VP heads home.
About Joe Biden
Joe Biden is a man of the people because he is relatable – from making funny faces during the State of the Union address to gifting former President Obama handmade friendship bracelets, he is not your average politician. The road to vice presidency has not been easy for him. With 36 years of experience under his belt, he faced many obstacles along the way.
From a young age, Biden struggled with a stutter, which he soon overcame going to law school and becoming a politician. Along this bumpy road he also suffered many great losses. First, he lost his first wife and daughter in a car crash. Then, in 2015 he lost his son Beau to brain cancer. These losses explain his strong family values and his 2 million miles accumulated on the Amtrak. Despite the three-hour commute, he would always be seated at the dinner table ready to eat with his family.
What's Next?
Joe Biden's work is not done just yet. The tenacious former VP is planning to concentrate further on domestic and economic policies at U.S. universities. He is also starting a cancer research initiative in honor of his son. And, he has even teased of a presidential run in 2020!