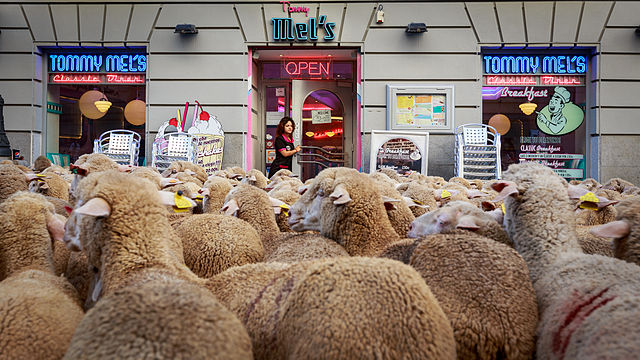 "Running with the bulls" is relatively well known and refers to the yearly bull run in Pamplona, Spain where cattle run amok through city streets.
But Pamplona is not the only Spanish city to have its livestock run free amidst the local population. Every year in Madrid, the capital of Spain, residents, and tourists alike gather to celebrate the town's annual "running of the sheep."
Nearly 2000 merino sheep, accompanied by around 100 goats, were led through Madrid by various herdsmen on October 20. The trek began in Casa de Campo, the city's largest park, and ended in the Plaza de Cibeles, the iconic town square in Madrid. This walk is part of the celebration of Fiesta de la Trashumancia, or Transhumance Festival, which is an annual event usually held towards the end of October. 
The Festival
The Transhumance Festival began in 1994, when the Association of Transhumance and Nature wished to have an annual commemoration of the city's rural heritage.
The festival became an homage to the yearly livestock migration that used to take place every autumn. As a result, every year, the streets are cleared to pave a route for shepherds and their sheep to come down the roads. To further honor their heritage, herders are occasionally dressed in traditional clothing such as clogs. Crowds line the sidewalks to watch the ensemble of livestock and herders until eventually, the group makes its way to City Hall for the payment ceremony.
This ceremony involves the Madrid mayor greeting the shepherds, and then the chief herdsmen paying the Madrid mayor 50 maravedís al millar, or 50 coins per one thousand heads. This was the exchange rate determined back in 1418 when shepherds of old would need to guide their herds across the city and were required to pay a certain amount for each individual animal that they led through the streets.
Sources: BBC, National Geographic