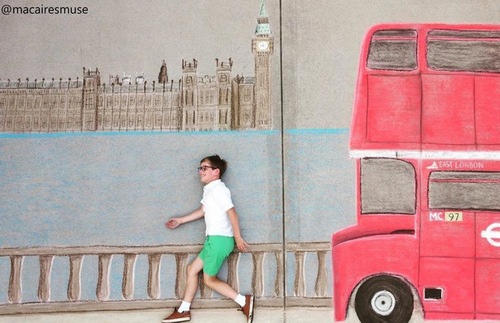 We have all been stuck at home for the past year, wishing we could travel to visit places, friends, and families.
Fourteen-year-old Macaire Everett and her nine-year-old little brother Camden found a way to do so from the comfort of their homes!
The siblings have been creating giant-scale art in their driveways to entertain themselves and also their entire community. Through this art, they have traveled from London to Hawaii and even outer space, fed giraffes while on a safari, and even hugged a dinosaur!
A Family Affair!
Macaire loved art and the pandemic gave her an opportunity to develop it. Each day, for the next 100 days, she drew giant chalk art on the sidewalk. Camden, meanwhile, would pose with the chalk art, bringing the artwork to life!  
The chalk art became a family affair. Macaire would plan the design each evening over the dinner table. Their mother made sure there were enough supplies of chalk and at the end of the day, their father would wash and clean the driveway, to prepare the canvas for the next day's art. 
Macaire's art attracted attention both locally and nationally because of its popularity on Instagram. They even released a book on Amazon! It just goes to show how a little creativity can help us all tide over dark and difficult times such as the pandemic. 
How did you entertain yourself during the pandemic?
Sources: Huffington Post