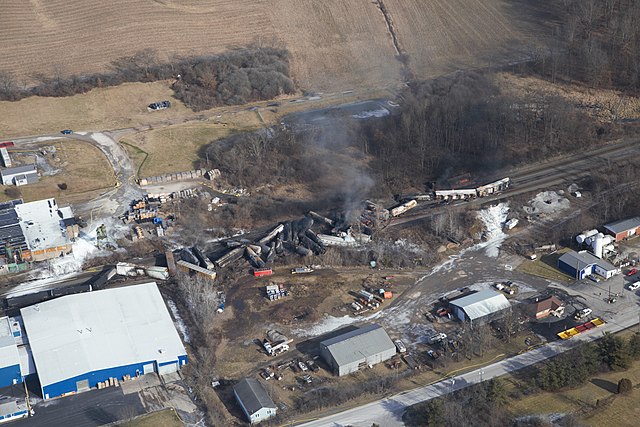 Did you hear about the train derailment in Ohio?
It has been a few months since the accident, and many people may have forgotten about it. But for the residents of East Palestine, OH, the derailment is still very fresh in their minds. So what are the environmental impacts? How are the residents being affected? Let's find out!
A Quick Refresher
On February 3rd, a train carrying toxic chemicals derailed in East Palestine, Ohio. The wreckage caught fire, causing fears of an explosion and prompting an evacuation of the area. Initially, it was unclear what caused the accident, but after investigation, it seems that an overheated wheel bearing caused it. 
To dispose of the hazardous materials, authorities performed a controlled release of the chemicals. After closing off the wreck site, holes were bored into the cars, and the hazardous substances were drained into a pit. Then, the chemicals were set on fire and allowed to burn off.
Some of the hazardous substances, including vinyl chloride, are known to cause respiratory issues when burned, and can even lead to death. When vinyl chloride is burned, it releases dioxins – chemically related compounds known as persistent organic pollutants, or POPs. When released into the atmosphere, dioxins take a long time to break down.
Environmental Impact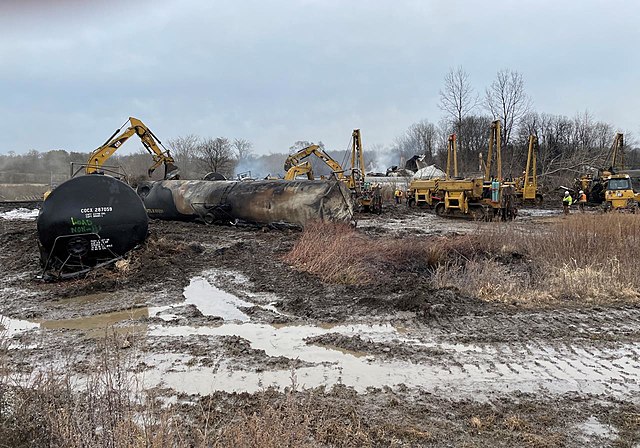 Days after the accident, The EPA (Environmental Protection Agency) and Norfolk Southern declared that there weren't dangerous levels of chemicals present in the air or water. This was determined by taking multiple samples from homes, rivers, and soil.
After the clean-up, residents began reporting symptoms such as headaches, and fatigue – symptoms of exposure to the chemicals on board. Even members of the CDC (Centers for Disease Control) began feeling sick, with symptoms including headache and sore throat.
The Ohio Department of Natural Resources estimated that about 7 miles of river is contaminated, and more than 43,000 aquatic creatures have died so far, though contamination of municipal water is denied.
Residents' Concerns
Regardless of being declared safe, residents are still concerned about their health, and the future of the town. Many can't afford to move to a safer area, and for others, East Palestine is the only place they've ever lived.
Home values have plummeted, preventing owners from being able to sell their homes. Even Allstate, a popular insurance company, has stopped covering newly purchased homes. Many local businesses are suffering due to customers' fear of the area. Local businesses have received criticism online for trying to draw customers back, with many calling them irresponsible for endangering customers. 
Norfolk Southern is attempting to reimburse affected residents, but some are facing difficulties collecting their payments. One man has complained of being unable to collect reimbursement because he doesn't receive mail in his name at his home. This has made it difficult for him to prove his place of residence, hindering him from collecting payment.
Moving Forward
The derailment has certainly caused major damage to the lives of the residents of East Palestine, and the environment. Only time can tell what the true impacts will be. One thing we can hope is that life in East Palestine will return to normal and that the residents will keep receiving the help they deserve!
Sources: NY Times, ABC News, NPR, USA Today, WHO